APSU Sports: Austin Peay Women's Track and Field

Clarksville, TN – Austin Peay State University women's track and field team looks to climb in the Ohio Valley Conference Best List at this weekend's Vanderbilt Invitational.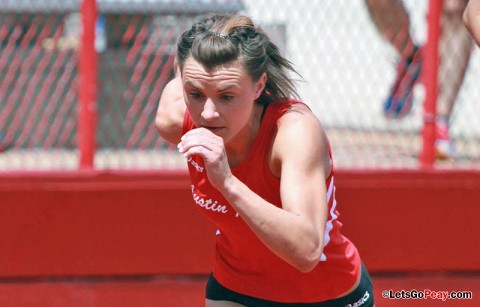 The two-day meet will feature a number of Southeastern Conference teams, including host Vanderbilt and Tennessee, plus several OVC schools such as Tennessee State, Eastern Illinois, Murray State and Tennessee Tech. With the OVC Outdoor Championships coming up, May 4th, the weekend will give head coach Doug Molnar a good idea of where the Lady Govs stack up against the league.
"This is a very good meet with great competition," Molnar said. "It's another chance to improve our times prior to the conference meet. Obviously, with Vandy and Tennessee, the times will be fast. It's going to be interesting to see some other OVC schools as well and get a feel for where we are. It's a good opportunity to break a few more school records."
Austin Peay already has broken three outdoor records and have gotten close to several others. Senior Tanesha Campbell has set the shot put (13.96m) and hammer throw (40.01m) marks, and is approaching the school record in the discus. Her discus mark of 42.66 is third in the OVC, while her shot put mark is second and her hammer mark is ninth.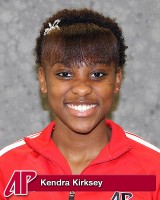 Sophomore Kendra Kirksey set the Lady Govs program mark in the 3000-meter steeplechase last week at 11:27.04 which is the league's fourth-best time. It was the second time this season Kirksey has set the school record.
Molnar also is looking for improvement in the sprints. Senior Candace Johnson is eighth in the OVC with a 24.84 time in the 200-meter dash, while sophomore Cenitra Hudson is ninth at 24.96. Junior Chantelle Grey, meanwhile, is second in the league with a 55.41 400-meter time and second at 2:08.00 in the 800-meters. She also is nearing a school record in the 1500-meter run with a 4:36.13 mark, which also is OVC's second-best time.