Clarksville, TN – The 2012 Rivers and Spires festival opened with some amazing weather, clear and not too hot. Crowds of people descended on Historic Downtown Clarksville to enjoy the first day of the free three day annual festival.
The Roxy Regional Theatre opened up the musical entertainment with a musical review of current and upcoming productions including School House Rock and Spring Awakening which are both currently playing, and The Wedding Singer and Happy Days from their upcoming season.
The Clarksville Area Chamber of Commerce held their Business After Hours Event in the Parking lot of U.S. Bank at the Clarksville City Hall. Chamber members enjoyed refreshments provided by Hooters, and played a variety of games with Hooters Girls including a Cornhole Tournament, Putting, and Dancing.
Last Band Standing was rocking over on Strawberry Alley the multi-day contest awards cash prizes to daily winners, and on the final day the winners battle it out while the audience and special guest judges select the winner!
On the Public Square Stage, the entertainment was non-stop! After the Roxy Regional Theatre show, Austin Peay State University held a step show, followed by performances from The Deep Fried 5 and Guilty Pleasure. These energetic bands had the crowd dancing right along with the music.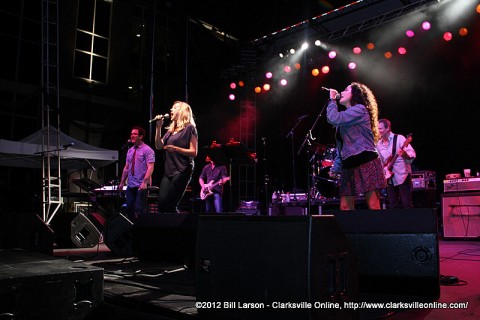 Rivers and Spires continues today with even more activities concluding with a fireworks show at 9:45pm.
There is a 70% chance of rain today, but hopefully it will be over and done with before the festivities continue at 4:30pm
Photo Gallery