APSU Sports: Austin Peay Softball

Murray, KY – A home run by Jessica Ryan, in the top of the eighth inning, proved to be the winning margin Saturday afternoon, as Austin Peay's softball team rallied to beat Murray State 2-1 in an Ohio Valley Conference matchup.
Ryan, a red-shirt junior, hit a 1-1 pitch from Racer starter Shelby Kosmecki high over the left-center field fence to give the Lady Govs (15-25, 7-15 OVC) their first lead of the day.
Murray State (20-16, 12-10 OVC) threaten in the bottom of the inning, getting a runner to third – with just one out – but Lady Govs junior starter Morgan Brewer got a popup on the infield for the second out and a fly ball to center for the final out to seal away the victory.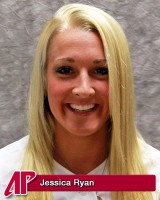 The win improves the Lady Govs to 4-9 in one-run games this season overall, while also ending a streak of six extra-inning losses – with five of those coming in conference play.
Before Saturday's win in eight innings, the Lady Govs last extra-inning win came in the season opener versus Mercer, 11-9, at the Kennesaw State Tournament back on February 11th.
Murray State scored its lone run in the bottom of the first inning on a two-out single by Leslie Bridges to drive in Megan Glosser – who had reached on a single.
The game would remain that way until the top of the sixth inning, when freshman Lauren Bradley worked a two-out from Kosmecki.
Freshman Paige Neely would follow with Austin Peay's first hit of the game – a double over the head of the Murray State left fielder Meghan Sims – with Bradley coming all the way around from first to tie the game 1-1.
Sophomore Lauren de Castro would have the Lady Govs only other hit in the contest, while the other base runners for the Lady Govs came on a walk to Brewer in the second inning and Bradley reaching on an error in the fourth.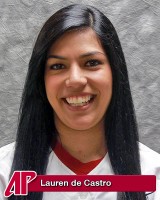 Murray State would only record six hits in the game – all singles – with Brewer (7-11) also walking two and strike out two in getting the complete-game victory.
Kosmecki (9-9) took the loss giving up three hits and two walks to go with seven strikeouts.
The two teams will conclude their three-game conference series Sunday, 1:00pm, with a doubleheader at Racer Field.