Austin Peay Baseball vs. Tennessee
Tuesday, April 24th, 2012 | First Pitch: 6:00pm (CT)
Knoxville, TN | Lindsey Nelson Stadium (3,800)

Clarksville, TN – Austin Peay's baseball team continues its six-game road trip with a pair of midweek outings. First, the Govs travel to Tennessee for a 6:00pm (CT), Tuesday contest before a trip to Western Kentucky for a 6:00pm (CT), Wednesday meeting.

It will be the fourth time in the last five seasons Austin Peay and Tennessee have met, UT holding a 3-1 edge in those contests.

The Governors and Hilltoppers will meet for the second time this season, WKU won a 12-8 decision, March 21 in Clarksville.

Austin Peay is 2-2 during its six-game road trip, losing at Middle Tennessee, last Wednesday, before winning 2 of 3 in a Ohio Valley Conference series at Eastern Kentucky. The Govs are 6-5 (.545) in their last 11 games following a 7-game win streak that ended with a April 3rd loss to Belmont. Including that win streak, the Govs are 13-5 (.722) since March 22nd.

Austin Peay's offense has scored 8 or more runs in 13 of those 18 contests and has a 12-1 mark when posting eight runs while averaging 8.9 runs and batting .318 during that span. Senior center fielder Michael Blanchard has sparked the recent stretch with a team-best .439 batting average and a .538 on-base percentage (12 walks) during those 18 games, he enters Week 11 leading the Govs in batting average (.324).

Five Governors are batting above .300 after 10 weeks, including junior shortstop Reed Harper, who is batting .323, with a .390 mark during the recent 18-game stretch. Senior third baseman Greg Bachman leads the team with nine home runs and has posted 39 RBI while batting .303. Sophomore second baseman Jordan Hankins has a team-best 40 RBI while batting .318 this season.
About This Week's Opponents
Tennessee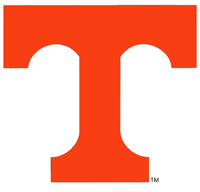 The Volunteers have lost 11 of their last 13 after suffering a three-game sweep at Mississippi State last weekend in Southeastern Conference action. Tennessee is 15-7 in non-conference play, including a 5-1 victory against Tennessee Tech, March 13th.
Freshman second baseman Will Maddox leads UT with a .299 batting average this season. Junior designated hitter Drew Steckenrider leads the team in home runs (5) and walks (28). Junior outfielder Chris Fritts leads the Vols with 23 RBI.
Western Kentucky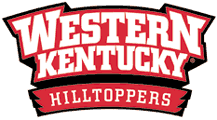 The Hilltoppers are 6-7 in April but enter this week's action fresh off a Sun Belt series win against Troy. That series was the first three games of a nine-game homestand. Western Kentucky is 1-1 against OVC schools, defeating the Govs after losing to Murray State.
Senior third baseman Casey Dykes leads WKU with a .288 batting average. Senior outfielder Ryan Hutchinson leads the team in home runs (4) and RBI (31) at the 40-game mark.
Delgado Deals Complete Game Win
Junior Casey Delgado picked up a complete-game victory at Eastern Kentucky, April 22nd, becoming the first Austin Peay pitcher since 2008 to toss a nine-inning complete game. In his four conference starts, Delgado has averaged 8 innings per outing and posted a 2-1 record with a 2.81 ERA.
That OVC stretch has helped him recover from a rough start that saw him post a 2-2 record and 10.12 ERA in his first five starts.
Govs Break Out Bats At Eastern Kentucky
A week after posting 12 home runs against Murray State, Austin Peay's offense kept its bats hot in the three-game set at Eastern Kentucky, April 20th-22nd. The Govs batted .383 during the weekend with an impressive 44 hits.

Eleven different Govs recorded a hit in the series and seven recorded an extra-base hit, including senior center fielder Michael Blanchard and junior shortstop Reed Harper who each batted .500 with a double and a home run.
Week 10: Harper Earns 2nd Adidas Weekly Honor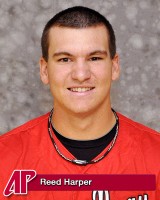 Senior shortstop Reed Harper led the Govs with a .500 batting average (6-of-12) and six RBI during their 2-1 OVC series victory at Eastern Kentucky, April 20th-22nd, and earned a share of the adidas OVC Player of the Week honors.
He began the week with a 1-for-4 outing in non-conference action at Middle Tennessee, Wednesday. Harper shared the Week 10 honor with Jacksonville State's Ben Waldrip.
Govs Post 14th Non-Losing OVC Series
With its three-game series victory at Eastern Kentucky, April 20th-22nd, Austin Peay continued a long string of not losing an OVC series. The Govs have not lost an OVC set since the next-to-last weekend of the 2010 regular-season, a streak of 14 consecutive OVC series won or tied, including a streak of nine consecutive series won.
Long Road To Wrap Regular Season For Governors
Beginning with its April 18th contest at Middle Tennessee, the Govs will play 14 of their final 21 games away from Raymond C. Hand Park. Austin Peay has opened that closing stretch with a 2-2 mark after winning 2 of 3 at Eastern Kentucky, last weekend.

Last season, APSU played 13 of its final 20 games on the road, posting a 15-5 mark during that final stretch.
Probably Starting Pitchers
| | | | | |
| --- | --- | --- | --- | --- |
| Date | Time (CT) | Austin Peay Starter | Opponent's Starter | APSU Radio/Internet |
| Tue. | 6:00pm | RHP Mark Allen Bounds | LHP Josh Allman | None. |
| | | (Sr., 0-0, 9.00 ERA) | (Sr., 0-0, 1.93 ERA) | |
| Wed. | 6:00pm | TBA | TBA | None. |
| | | | | |
STATISTICAL COMPARISON: GOVERNORS VS. VOLUNTEERS AND HILLTOPPERS
TEAM
BA
RPG
HR
RBI
SLG
OBP
SB-A
ERA
H/9
BB/9
SO/9
BAA
FLD
APSU
.291
7.1
44
245
.449
.390
45-67
4.77
9.21
4.82
7.43
.267
.964
UT
.253
4.4
13
146
.338
.350
55-82
3.55
8.19
3.85
6.66
.248
.974
WKU
.254
4.8
16
164
.340
.352
24-36
4.83
9.53
3.92
7.88
.278
.969
Sections
Sports
Topics
Adidas, APSU, APSU Athletics, APSU Baseball, APSU Men's Baseball, APSU Sports, Austin Peay State University, Belmont, Ben Waldrip, Casey Delgado, Clarksville TN, Eastern Kentucky, Governors, Govs, Greg Bachman, Hilltoppers, Jacksonville State, Jordan Hankins, Knoxville TN, Lindsey Nelson Stadium, Michael Blanchard, Middle Tennessee, Mississippi State, Murray State, Ohio Valley Conference, OVC, OVC Co-Player of the Week, Raymond C. Hand Park, Reed Harper, SEC, Southeastern Conference, Sun Belt Conference, Tennessee, Tennessee Tech, Troy, UT Vols, Volunteers, Western Kentucky