APSU Sports: Austin Peay Women's Golf

Dickson, TN – Unable to match Sunday's score, Austin Peay State University women's golf team still sits in fifth place after the second round of the Ohio Valley Conference Golf Championship, being played at GreyStone Golf Club.

In cool, blustery wind conditions, the Lady Govs saw their second-round score slip to a 324, eight strokes higher than Sunday's opening-round 316 for a two-round 640.

Jacksonville State holds a five-stroke lead heading to the final round, shooting a 314, Monday, for a two-round (296-314=610).  Murray State (307-308=615) moved into a second-place tie with Morehead State (299-316) while Eastern Kentucky (310-310=620) is in fourth, just five strokes behind.
Tennessee Tech (330-322=652), meanwhile, soared past Eastern Illinois (330-337=667) into sixth place.
Austin Peay was able to see just two golfers, junior Lauren Bond (77) and redshirt sophomore Tabitha Beard (78), shoot below 80. Beard was one-under par at the turn, including a trio of birdies and a pair of bogeys. However, the back nine led to her undoing as the Centerville native carded a trio of bogeys and two double bogeys.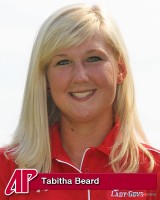 Despite her late struggles, Beard sits tied for seventh individually with a two-day 154 in her first OVC tourney. Morehead State's Melissa Kamelgarn leads with a two-round, one-over 145 (72-73).

Bond, who was named to the OVC All-Newcomer team on Sunday, had one birdie on the par-four 13th hole, but also had a quartet of bogeys and one double bogey on the day.

"The girls battled hard in some tough, windy conditions today, but we just had some tough holes," APSU coach Sara Robson said. "Big numbers has been our nemesis all year and again today.

"Tabitha had another good day; a couple swings and a couple missed short putts kept her from going low. Lauren had a good round today, her big number (double bogey five) came on 17. Other than that hole she played great."

After shooting a six-over 42 on the front nine, sophomore Rachel Deaton settled down some with a 39 on the back nine.

Sophomore Tala Mumford and junior Holly Batey could never get anything going all day long, with the former shooting an 88 while Batey had a 91.

The tournament will conclude Tuesday with an 8:00am start. The Lady Govs again will tee off at 8:50am.

"We need to forget today and come out tomorrow ready to redeem ourselves and play well," Robson said.
OVC Women's Golf Tournament – Day 2
| | | | | | | |
| --- | --- | --- | --- | --- | --- | --- |
| 1 | 2 | Team | R 1 | R 2 | Scores | Par |
| 1 | 1 | Jacksonville State | 296 | 314 | 610 | +34 |
| 2 | T 2 | Morehead State | 299 | 308 | 615 | +39 |
| 3 | T 2 | Murray State | 307 | 316 | 615 | +39 |
| 4 | 4 | Eastern Kentucky | 310 | 310 | 620 | +44 |
| 5 | 5 | Austin Peay State | 316 | 324 | 640 | +64 |
| T 6 | 6 | Tennessee Tech | 330 | 322 | 652 | +76 |
| T 6 | 7 | Eastern Illinois | 330 | 337 | 667 | +91 |
| | | | | |
| --- | --- | --- | --- | --- |
| Position | School – Players | Round 1 | Round 2 | Total |
| 5 | Austin Peay State University | 316 | 324 | 640 |
| 10 | Tabitha Beard (2) | 76 | 78 | 154 |
| T 12 | Tala Mumford (5) | 78 | 77 | 160 |
| T 18 | Holly Batey (4) | 79 | 81 | 165 |
| 27 | Lauren Bond (3) | 83 | 88 | 166 |
| T28 | Rachel Deaton (1) | 84 | 91 | 170 |
Sections
Sports
Topics
APSU, APSU Athletics, APSU Golf, APSU Sports, APSU Women's Golf, Austin Peay State University, Dickson Tn, Eastern Illinois, Eastern Kentucky, GreyStone Golf Club, Holly Batey, Jacksonville State, Lady Govs, Lauren Bond, Morehead State, Murray State, OVC Golf Championship, Rachel Deaton, Sara Robson, Tabitha Beard, Tala Mumford, Tennessee Tech