Austin Peay State University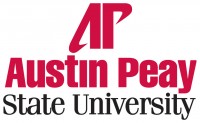 Clarksville, TN – When Austin Peay State University student Jorge Jiménez Cano first arrived in the United States, he only spoke a handful of basic English words, such as "hello" and "yes." This proved to be a bit problematic on the days when he wasn't feeling well.
"When I'd go to the doctor, I'd say 'ouch here,'" he recalled, pointing to his throat to show the doctor where he felt pain. "It was intimidating."
The whole experience would have been much simpler and less stressful if he'd only known where to find a Spanish-speaking doctor. Memories of those early encounters are what prompted Cano to enroll in Dr. Osvaldo Di Paolo's Spanish Business Class 3410 at APSU this semester. The class is one of the many service-learning courses offered by the University, with its semester-long project consisting of creating a bilingual business director for the Clarksville-Montgomery County community.
"We wanted to do something that benefitted the community, but at the same time fulfilled the objectives of the course," Di Paolo, an assistant professor of Spanish at APSU, said. "Then we started thinking, 'what organization do we contact?'"
The professor was soon put into contact with Elizabeth Kurtz, an APSU alumna and AmeriCorps volunteer who is a member of the University's Service Learning Advisory Board.
"My goal is finding interested faculty and hooking them up with community partners," she said. "I was really happy that we found a partnership so quickly and that it worked out so well, and was in keeping with the objectives of the course too."
Kurtz connected Di Paolo and his class with Jerrika Rivera, an administrator with the local Latina Association and president of Your Spanish Link, LLC. For the last several years, Rivera has been inundated with phone calls from members of the local Hispanic community about where they can go for everything from medical assistance to buying car insurance. She had two volunteers working to put together a bilingual business directory, but the process, taking over a year and a half, was slow going.
"The Hispanic community kept growing," she said. "We needed a community directory for the people coming in, for the new comers."
The project was a perfect fit for Di Paolo's class of six students, which included three native English speakers and three native Spanish speakers. The students – Cano, Tasha Arrington, Marcus Fisher, Betty Karpowecz, Luis Rosales and Celestine McNeal – then paired up and set to work calling local businesses.
"There were so many different numbers and businesses in the community," Arrington said. "We called these people to see if they are onboard and what can they provide to the Hispanic community. Do they have Spanish speakers, things like that."
Fisher's team contacted several medical businesses, such as doctor's and dental offices, and he was a little surprised by the reaction he received.
"For me there were more businesses open to being put in the directory, and having assistance with translations for customers," he said. "No one really objected."
That hasn't always been the case in Clarksville, Carlos Sánchez, with the Hispanic Ministry of the First Baptist Church, said. He was one of the two people working on the original directory, and he remembers a time nearly two decades ago, as a young Fort Campbell soldier, when his bilingual skills were much in demand.
"Years ago, a lot of time I spent with people, like when someone had a baby or when somebody went to court," he said. "I'm glad now that they have a lot of social workers. I used to be very very busy. We're talking about 18 years ago. Things have changed a lot for the good."
Aside from providing a valuable service to the community, as the project got going, Di Paolo noticed the interesting challenges it placed before his students. They witnessed first hand how dynamic language can be.
"We did the descriptions of business in both languages, and it is so specific and it has to be written in such a way, it shows very clearly the differences in both languages," he said. "It's all so specific, and we don't really have the same words."
"Just going from one translation to the other, I asked myself, 'Is this right in English,'" Fisher remembered. "Some things just don't translate."
The class also taught the students how to conduct themselves in business situations, it expanded their business vocabulary and helped them hone their formal writing skills. And the service-learning component, Di Paolo said, allowed the students to learn without being in a typical, "dry" business class setting.
And after a semester of work, the students have a tangible product that will help the local community. The 120-page bilingual directory is in the process of being edited, and Rivera hopes to have it printed and out to local stores by May 15.
But for students such as Fisher, it's a project he wishes he could continue on beyond the semester.
"Right now, there are still more businesses I want to add," he said.
For more information on the directory or the service learning class, contact Di Paolo at dipaoloo@apsu.edu.