APSU Sports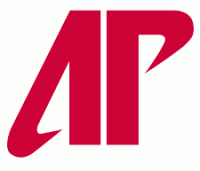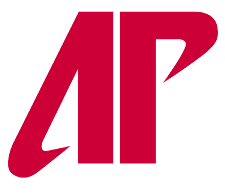 Clarksville, TN – For the first time since Austin Peay State University established the awards nearly two decades ago, the Most Outstanding Male and Female Athletes have come from the sport of tennis.
Junior Sean Bailey, who recently was named Ohio Valley Conference Player of the Year in leading the Govs to the No. 2 seed in the OVC tournament, and Vanja Tomic, a three-time first-team All-OVC selection who owned an 19-6 record at No. 1 singles this year, have been named the 2011-12 Most Outstanding APSU Athletes.
In addition, Tomic, who owns a 51-9 record in three seasons as the Lady Govs No. 1 singles player and who led the 2010 Lady Govs to their first NCAA tourney appearance, was chosen the Female Legends Award recipient as the most outstanding senior athlete.
Meanwhile, third baseman Greg Bachman, a four-year starter who helped lead the Governors baseball team to the 2011 Ohio Valley Conference championship and NCAA tourney appearance, was named the Male Legends Award recipient as the most valuable senior.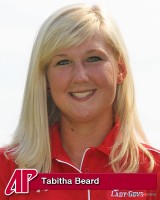 The presentation of Austin Peay State University's most cherished athletic awards along with the individual team honors were made Monday night at APSU's annual Athletics banquet, held in Dave Aaron Arena.
In addition to the Outstanding Athlete and Legends Awards, two Lady Govs golfers, Holly Batey and Tabitha Beard, who both hold the exact same GPAs (3.9629) in their respective majors, will share the 2012-13 Perkins Freeman Governors Club Academic Achievement Scholarship for owning the highest grade-point average for rising senior student-athletes.
Batey, who is a business administration (accounting/international management concentrations) major, and Beard, who is an Interdisciplinary Studies (K-6) major with a professional education minor, also were co-recipients of the Female Scholar-Athlete award.
Meanwhile, senior soccer goalie Mackenzie Ladd, who owns a 3.85 grade-point average as a communications major, was named the Perkins Freeman Governors Club Academic Achievement Award recipient for owning the highest GPA of graduating senior athletes.
And men's tennis Bailey, who owns a 3.923 grade-point average as a double major in French and communication arts, was named the recipient of the Male Scholar-Athlete Award.
After playing at the No. 3 singles spot a year ago, Bailey began the 2011-12 season at No. 2. It took him little time to not only gain the Govs' top spot, but become the OVC's top player.
He fashioned a 19-5 regular-season record this season, including a perfect 7-0 OVC mark in singles play that was part of an 11-match winning streak. Bailey also teamed with and mentored freshman Dimitar Ristovski to post 5-3 OVC mark in No. 1 doubles.
Bailey is only the seventh Governors tennis player to be named OVC Men's Player of the Year, but the first in nearly three decades (Carlos Claverie was the last Gov to be honored in 1983).  He also became the first Govs' tennis player to earn the APSU's Most Outstanding Athlete Award since it was established in 1993-94.
Meanwhile, Tomic became the first Lady Govs tennis player to earn such distinction since the initial year when Susan Sheather earned the honor.
The Lady Govs tennis program, which won two OVC titles in the mid-1980s and continued to be a league challenger into the mid-1990s, had ceased to become relevant, that is, until Tomic came along. Before Tomic arrived on campus in 2010, transferring from Lindsey Wilson College, Austin Peay had not appeared in the OVC tournament since 2003. The Lady Govs stunned the OVC in 2010 by not only qualifying for the OVC tournament that season but winning the title as well. They also have been a Top 4 seed the last two seasons as well.
In her first season as a Lady Gov, Tomic was OVC Player of the Year in posting an 18-2 singles record, including a season-ending 17-match winning streak. She also teamed with Mariana Pagan to sport a 16-3 doubles mark.
A year later in 2011, Tomic again was dominant again, going 15-3 in singles play that including a 7-1 OVC mark.
This season, Tomic fashioned another 17-match winning streak that was ended right before OVC tourney play. She was nearly perfect in league action, going 7-1 in pacing the Lady Govs to a No. 4 seed.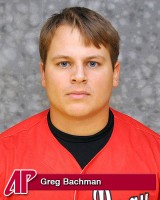 In 2010, Austin Peay's baseball team failed to qualify for the OVC tournament.  Third baseman Greg Bachman watched that season from the bench because of a shoulder injury.
In 2011, the Governors baseball team not only won the OVC regular-season and tournament titles in dominating fashion, they also qualified for the NCAA tournament. Bachman played in 57 of 58 Govs' games. Coincidence? No. In fact, the fifth-year senior has the Govs challenging for another crown in 2012.
As a freshman in 2008, Bachman moved into the Govs' starting lineup, first as a shortstop before being moved to third, where he has been ever since. He was selected to the OVC All-Freshman team. A year later, the Germantown native became the club's MVP after batting .342 with a team-best 10 home runs and 44 RBI.
After a trying year for both Bachman and the team in 2010, he bounced back in 2011 to again become a middle-of-the-order hitter. He batted .312 with seven home runs and a career-best 45 RBI. However, he was even better during OVC play, batting a team-best .424 with 10 doubles and 26 RBI. Bachman was named second-team All-OVC for his outstanding work.
Again in 2012, Bachman is back being one of the Govs' most productive players. Against Murray State two weekends ago, the senior third baseman clubbed a pair of three-run home runs in Game 3 of the series.
He steadily has climbed up the Top 10 in multiple statistical categories. Earlier this season Bachman joined an elite Govs list with his 200th career hit. He now ranks fifth all-time in the category. He entered last weekend tied for third in doubles with 54; fourth all-time in RBI (160) and second in at bats. He also is just one of 10 Governors in history to club more than 25 career home runs.
This is the fourth year the Legends Award has been bestowed, continuing APSU's long-standing tradition of honoring the most valuable male and female senior athletes, respectively. The Legends Award, sponsored by Legends Bank, assumed the place of the Joy Award, which was originated in 1947 by the late Wilson Goodrich, then owner of Joy's Jewelers.
From 1947-96, one APSU senior athlete was honored each year. However, beginning in 1997 a male and female senior athlete, respectively, was honored by Joy's and that continued through 2008. However, Joy's Jewelers closed its business in Spring 2008, with Legends Bank assuming the tradition of honoring athletics excellence.
Award Recipients
Individual Awards
Legends Award (men)-Greg Bachman, baseball
Outstanding Male Athlete-Sean Bailey, men's tennis
Legends Award (women)-Vanja Tomic, women's tennis
Outstanding Female Athlete-Vanja Tomic, women's tennis
Female Scholar-Athlete Award– Tabitha Beard and Holly Batey, golf
Male Scholar-Athlete Award-Sean Bailey, tennis
Governors Club Academic Achievement Award– Mackenzie Ladd, women's soccer
Governors Club Academic Achievement Scholarship-Holly Batey, Tabitha Beard, women's golf
Team Awards
Baseball
Most Valuable-John Hogan (2011)
Pitcher of the Year-Ryne Harper (2011)
Most Improved-Michael Blanchard (2011)
Scholar-Athlete-Lucas Anderson (3.788)
Men's Basketball
Most Valuable-John Fraley
Most Improved-Melvin Baker
Scholar Athlete-Anthony Campbell (3.000)
Women's Basketball
Most Valuable-Whitney Hanley
Most Improved-Kaitlyn Hill
Scholar Athlete-Kaitlyn Hill (3.714)
Men's Cross Country
Most Valuable-Boniface Yator
Scholar Athlete-Konnor Kessler (3.720)
Women's Cross Country
Most Valuable-Xiamar Richards
Scholar Athlete-Alyssa Molnar (3.653)
Women's Indoor/Outdoor Track
Field Athlete of Year-Tanesha Campbell
Track Athlete of Year-Chantelle Gray
Newcomer of the Year-Lauren Lyles
Scholar Athlete-Janelle Avery (3.111)
Football
Most Valuable Offense-Ryan White
Most Valuable Defense-Amius Smith
Most Valuable Special Teams-Antwaun Majors
Scholar Athlete-Zach Lane (3.578)
Men's Golf
Most Valuable-TBA
Most Improved-TBA
Scholar Athlete-Drew Miller (3.600)
Women's Golf
Most Valuable-TBA
Most Improved-TBA
Scholar Athlete-Holly Batey and Tabitha Beard (3.963)
Women's Soccer
Most Valuable Offense-Tatiana Ariza
Most Valuable Defense-Jocelyn Murdoch
Scholar Athlete-Mackenzie Ladd (3.85)
Softball
Most Valuable-Catie Cozart (2011)
Pitcher of the Year-Morgan Brewer (2011)
Most Improved-Jessica Ryan (2011)
Scholar Athlete-Morgan Brewer (3.750)
Men's Tennis
Most Valuable-Sean Bailey
Most Improved-John Storie
Scholar Athlete-Sean Bailey (3.923)
Women's Tennis
Most Valuable-Vanja Tomic
Most Improved-Ornella Di Salvo
Scholar Athlete-Vanja Tomic (2.727)
Volleyball
Most Valuable-Paige Economos
Most Improved-Lauren Henderson
Scholar Athlete-Paige Economos (3.500)
Pom Squad
Most Dedicated-Takiesha Scimio
Most Improved-Carla Smith
Scholar Athlete-Sarah Arnold (3.551)
Cheerleading Squad
Most Valuable-Jasmine Richardson
Most Improved-Dewayne Kendricks
Scholar Athlete-Amanda Johnson (3.344)