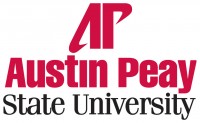 Clarksville, TN – Two Austin Peay State University students who have been involved with various activities surrounding the mathematics received the two top student awards during APSU's annual Academic Honors and Awards Day ceremony, held Tuesday, April 24th.
Kathryn L. Mattingly was named the recipient of the William McClure Drane Award, and Kaci Robertson received the Harvill-Civitan Citizenship Award.
Although both are chosen by faculty vote, Drane Award criteria include character, scholarship, leadership and service to APSU. The Harvill-Civitan Award goes to the graduate who maximized his/her abilities and worked for the betterment of the University.

Mattingly is a mathematics major with a minor in professional education. She attended APSU on several scholarships, including the Presidential Scholarship and a math scholarship.

During her undergraduate years at APSU, she was active with the Galois Mathematics Club, having served as the organization's president for two years. She also worked as math tutor and participated in several organizations related to her academic discipline, including the National Council for Teachers of Mathematics, the Student Tennessee Education Association, Mathematics Teachers of Middle Tennessee and the National Education Association.

A consistent dean's list scholar, Mattingly was tapped to membership in various honor societies: Pi Mu Epsilon, Gamma Beta Phi, Omicron Delta Kappa and Phi Kappa Phi. In addition, she was active in her sorority, Alpha Delta Pi, of which she served as chaplain, scholarship chair, recording secretary, formal recruitment chair and executive vice president.

Like her colleague, Robertson also was active in a number of mathematics-related activities during her undergraduate years at APSU. She was a member of the Galois Mathematics Club and held memberships in Alpha Lambda Delta, Pi Mu Epsilon and Phi Kappa Phi honor societies.

Much of Robertson's campus involvement has centered on three primary activities and organizations: Tri-County Upward Bound (TCUB), The Navigators Collegiate Ministry and the Middle Tennessee Science and Engineering Fair (MTSEF). For the last three years, she has volunteered for and been employed by TCUB, which serves economically disadvantaged students in Cheatham, Houston and Stewart counties.

With The Navigators Collegiate Ministry, she has participated in and led Bible studies and worship events, in addition to service opportunities such as APSU's Freshman Welcome Wagon held each August.

For the MTSEF, a regional science fair open to all high school and middle school students in middle Tennessee, Robertson has held various duties through her Presidential Scholarship Student Worker position.