Austin Peay State University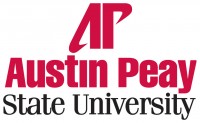 Clarksville, TN – Active duty and military veteran students who will graduate from Austin Peay State University next week will receive APSU's new military coin.

The military and veteran graduate recognition and coin presentation ceremony, with the theme "All Hail to Those Who Serve," is scheduled for 5:00pm, Wednesday, May 2md in the APSU Music/Mass Communication Building Concert Hall. The event is open to the public.

Guest speaker will be retired Command Sgt. Maj. Wayne St. Louis, executive secretary and treasurer of the 101st Airborne Division (Air Assault) Association. He also is a December 2011 alumnus of APSU. A native of Barre, MA, he entered the U.S. Army in September 1984 and completed combat engineer training at Fort Leonard Wood, MO.

During his 27 years of active duty, he served as a drill sergeant, first sergeant, operations sergeant major and battalion command sergeant major. The final leadership position he held was as the Fort Campbell command sergeant major (rear).

St. Louis' awards and decorations include the Bronze Star Medal, Legion of Merit, Meritorious Service Medal (4 OLC), Army Commendation Medal (5 OLC), Army Achievement Medal (6 OLC), Army Good Conduct Medal (6 OLC), National Defense Service Medal (w/Bronze Star), Noncommissioned Officer Professional Development Ribbon (w/Numeral 4), Army Service Ribbon, Overseas Service Ribbon (w/Numeral 5), Iraqi Campaign Medal, Global War on Terrorism Expeditionary Medal, Global War on Terrorism Service Medal, Bronze de Fleury Medal, Drivers Badge, Drill Sergeant Badge, Parachutist Badge, Air Assault Badge and Sapper Tab.

St. Louis' military education includes the Primary Leadership Development Course, Basic Noncommissioned Officer Course, Advanced Noncommissioned Officer Course, First Sergeant Course, Battle Staff, Sergeant Major Academy, Drill Sergeant School, Sapper Leader Course, Airborne school and Air Assault School.

APSU created its own coin with its military students and veterans in mind. The antique bronze color coin, designed by the APSU Office of Public Relations and Marketing, is finished with black enamel. The first set was cast in 2011.

On one side of the coin, the eagle is prominently displayed as the nation's symbol, along with other American patriotic elements. The University's AP logo is situated at the bottom of the coin. The words, "All Hail to Those Who Serve," were crafted from the lyrics of APSU's alma mater and from the military's customs and courtesies to welcome those who have joined the unit.

The other side of the coin shows an image of the clock tower atop the Browning Administration Building, generally considered the emblem of APSU. The year APSU was founded, 1927, also is noted on the bottom of the piece.

The military service members and veterans receiving the coin will graduate from APSU on Friday, May 4th.



Sections
Education
Topics
101st Airborne Division, Air Assault, APSU, APSU Browning Administration Building, APSU Military Coin, APSU Music/Mass Communication Building Concert Hall, APSU Office of Public Relations and Marketing, Austin Peay State University, Bronze Star Medal, Fort Campbell KY, graduation, U.S. Army, Wayne St. Louis