APSU Sports: Austin Peay Women's Track and Field

Clarksville, TN – With little margin for error, Austin Peay State University women's track and field team will head to Cape Girardeau, MO, this weekend to participate in the Ohio Valley Conference Outdoor Championships.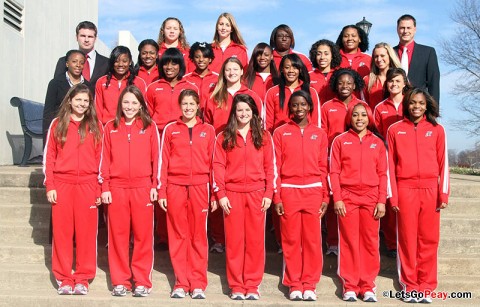 Field competition will begin noon, Friday, at the Abe Stuber Complex, on the Southeast Missouri State University campus. Finals of the discus, long jump, pole vault, javelin and high jump will occur that afternoon.
Track action will commence 2:15pm, Friday, with the men's 3000-meter steeplechase, followed by the women's beginning at 2:35pm. The steeplechase races and 10,000 meter competitions are the only track finals on the opening day, with prelims occurring in the other races.
On Saturday the trend reverses, with the remaining field finals (hammer throw, shot put, triple jump) beginning at 10:00am, with the large majority of track finals beginning at 1:00pm.
Austin Peay finished sixth a year ago. Eastern Illinois is the three-time defending champion and again is expected to be one of the favorites along with host Southeast Missouri. Eastern Kentucky and Jacksonville State also are expected to be forces.
"This is the most competitive the league has been on the women's side ever," APSU coach Doug Molnar said. "You look at the OVC rankings and you see nationally ranked competitors in almost every event. There use to be some events that you could sneak in a grab some easy points, but that isn't the case this year. So we will have to step up to the challenge.
"Just like indoors, there are a number of teams that can win this thing and I think we can make some noise in it, but we are going to have to be firing on all cylinders. Indoors we broke two school records, had 15 personal best and two season bests and that wasn't good enough to get it done. This time we are going to have to be even better and that is why I am challenging this team to chase perfection."
Austin Peay finished seventh in the OVC Indoor championships back in the winter. The Lady Govs hope to move up the ladder but will have to do it with a somewhat shallow roster.
Candace Johnson will seek to continue her late-season push in the sprints while Chantelle Grey has continued to be a force in the middle distances—fellow middle distance performer. senior Janelle Avery, will miss the championships to participate in graduation ceremonies. Grey owns the OVC's best 800 meter time and has the sixth best in the 400 meters.
Xiamar Richards will lead the distance runners with Cenitra Hudson and Lauren Lyles leading APSU in the jumping events—Hudson has the OVC's third-best triple jump this season.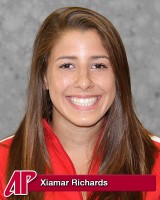 Meanwhile, senior transfer Tanesha Campbell has provided APSU a huge lift in the throws this season. She owns the OVC's best mark in the shot put and owns the school record in the hammer throw.
"We have a small talented group so we can't have too many missteps," Molnar said. "That is just the way it is. We will be leaning on Chantelle Grey, Tanesha Campbell, our 400-meter runners and hurdlers to really give us a boast this weekend.
"We are solid across the board in the pole vault, distance, sprints, but we can't make any errors.  This meet gives our young kids the opportunity to see what they can do against some of the best athletes in the country as well as seniors Campbell and Candace Johnson."