Austin Peay State University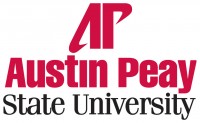 Clarksville, TN – On a recent afternoon, Austin Peay State University psychology student Caitlin Nelms was in the library, checking her email, when she noticed a message sitting in her junk mail folder. It had been there a few days.

When she clicked on it, the message informed her that she was the sole recipient of a prestigious summer internship offered through the Middle Tennessee Chapter of the Society of Neuroscience's and Vanderbilt University's Summer Science Academy.

"I was in the library, so I was trying not to be loud, but I was really excited," Nelms said.

The internship, known as the Summer Enrichment Research Program in Education and Neuroscience Training (SERPENT), will send Nelms to Vanderbilt for two months where she'll work under a faculty mentor conducting groundbreaking neuroscience research. It's a good fit for the APSU junior who, over the last year, has developed a fascination with that field.

"What really spiked my interest was learning about vision and auditory processing, that type thing, but I didn't want to go into the medical side of it," she said. "I wanted to do something different."

Through neuroscience research, she'll be able to investigate how individuals are consciously aware of what they're seeing and what they're hearing, and how they perceive those sensory responses.

"The researchers (at Vanderbilt) use different brain imaging techniques, so they see all the different connections," she said. "They're researching with animals and humans, with all different types of technology that we don't have at Austin Peay. It's very exciting."

Nelms already has a bit of experience as a researcher in this field. For the last year, she has worked with Dr. Larry Lowrance, APSU professor of education, and Dr. Jeannine Hirtle, APSU associate professor of education, looking at the relationship of social media use to TCAP writing scores, English grades, school attendance and discipline referrals among high school juniors and seniors. Her contributions to this study have more than impressed Lowrance.

"Ms. Nelms is more than brilliant," he said. "She has a mind that grasps concepts intuitively, studies them intensely and is flexible enough to change as new facts and circumstances come her way. She is creative in thought and practice and insightful like few others."

His statements might sound exaggerated until you take a look at Nelms's resume. She was the valedictorian of Bolivar Central High School in Bolivar, Tennessee, is a member of the APSU President's Emerging Leaders Program and its honors program, serves as vice president of the Chi Omega women's fraternity and is a member of numerous honor societies, including Gamma Beta Phi community service honor society, the Psi Chi psychology honor society and Phi Kappa Phi, the nation's oldest and largest collegiate honor society.

Nelms will receive a stipend for her work this summer, and she is required to give a presentation on her research at Vanderbilt and APSU and create a pamphlet for fifth- and sixth-graders describing what she did. She will also add the experience to her growing resume, which will come in handy this fall when she begins applying for graduate programs.



Sections
Education
Topics
APSU, APSU President's Emerging Leaders Program, Austin Peay State University, Bolivar TN, Clarksville TN, Email, Internship, Larry Lowrance, Phi Kappa Phi, TCAP