Clarksville, TN – The Third Annual Hilltop Barbecue Cook-off featured 12 teams competing in four categories for top prize of $250.00 plus a trophy. Second prize was $75.00 with a trophy and third prize was a plaque. Each judge rated the chicken, pulled pork, ribs or beef brisket for taste, appearance, and texture on a scale from one to ten.
This year's barbecue cook-off was the first for a full fledged overnighter. Teams like Grillin' and Chillin' from Dickson with Eddie Davidson as lead chef, Smokin' and Turnin' with chef Dewayne Byard from Clarksville, and the Palmyra Volunteer Fire Service have participated in all three years of the event.
Entry teams in addition to the two above this year are The Spice Is Right with chef Paul Vienneau, Full Thurttle BBQ with chef Steve Deloach, Wikersons with chef Ricardo Wilkerson, Assault from the Sky BBQ with chef Roy Powell, Big B BBQ with chef Brian Morrison, Southern Precision with chef Scott Story, Homestead BBQ with chef Tim Rigdon, Three Star with chef Kyle Holmberg, Double A's BBQ with chef Andy Alberd, and Lallo Smokin Joe's with chef Joe Lallo.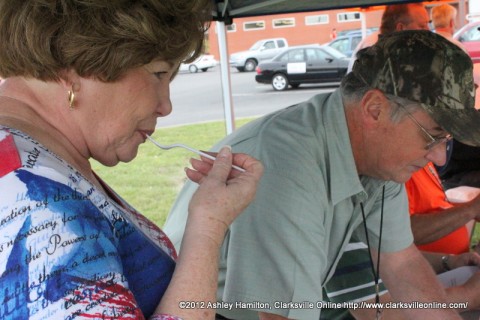 Judges were Robert Cruise (head judge), Dalton Harrison, Montgomery County Mayor Carolyn Bowers, Bill Corlew, Paul Witlow, Mr. and Mrs. Charlie Arms, plus a second team headed by Elkie Melton that included Bobby Melton, Rep. John C. Tidwell (Tennessee Legislative District 74), Roland Wallace, Mark Haynes and Russell Blake.
"This was the first time I've judged a barbecue cook off. I was impressed with the way it's all setup. It's setup very fairly the way it's rated." said Montgomery County Mayor Carolyn Bowers. "Everything was so good. There was a little variance on some of them but they were all presented very well, beautiful presentation, and good flavor. They were all such wonderful cooks."
"It's a little overwhelming for a person to judge all that in four different categories, pork, brisket, ribs and chicken. It took quite a bit more time than I thought it would but it was an interesting process." said Bowers. "You get really full by the time it's over. I really enjoyed it."
The Winners Are
CHICKEN
Place
Team
Head Chef
1st
Smokin N' Turnin
Dewayne Byard
2nd
Homestead
Tim Rigdon
3rd
Three Star
Kyle Holmberg
RIBS
Place
Team
Head Chef
1st
Smokin Joe's
Joe Lallo
2nd
Three Star
Kyle Holmberg
3rd
Big B's BBQ
Brian Morrison
PORK
Place
Team
Head Chef
1st
Double A's
Andy Alberd
2nd
Rib Cage
David Connor
3rd
Big B's BBQ
Brian Morrison
BRISKET
Place
Team
Head Chef
1st
Rib Cage
David Connor
2nd
Homestead
Tim Rigdon
3rd
Double A's
Andy Alberd
The Rib Trophies were dedicated to the memory of Carrol Wickham and Micheal Johnson who had passed away since the last BBQ Cook Off. Both were regular participants in the event and will be missed. There was a moment of silence before the announcement of the rib category winners.
Attendees could purchase a barbecue sandwich for only $3.00, a pound of pork barbecue for $7.50, a whole barbecued chicken for $7.50, a brisket sandwich for $5.00, or brisket for $9.00 for a pound. The aromas that filled the grassy area in front of Hilltop Supermarket were enough to make you step up for seconds or thirds.
On Friday night, Hilltop Super Market held a drawing to win four tickets to Holiday World. The winner of the drawing was Shirley Moore.
Hilltop Supermarket, located at 400 Highway 149, was also celebrating its Grand Re-opening on Saturday after the store had been entirely remodeled. One entire aisle of $1.00 bargains greeted the customer as you walked from the front door to the fresh produce area on the right. The market also features meat butchered daily in the store and bargains on every aisle.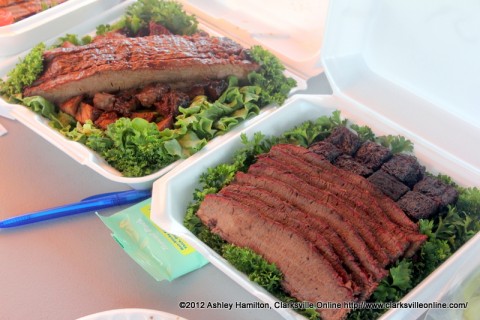 Not only does Hilltop sell a wide variety of groceries but it also has a country food hot bar, deli, bakery, and these items you might not expect–money orders, Western Union, phone cards, postage stamps, and video rentals. You can also pay your CEMC and Charter Cable bills right at the counter.
If you go to www.hilltopsupermarket.com, you can find specials of the week and can also sign up to get a weekly newsletter sent straight to your e-mail so that you don't miss the super bargains on a daily basis.
A special addition to Hilltop's Barbecue Cook-off this year is the Manna Café Ministries' mobile kitchen. Founder Kenny York said that Manna Café set up last year, but when the Health Department required that they begin to serve from a mobile kitchen, they decided to attend again this year as part of a fundraiser for their new Cafe Catering as they begin training people through the culinary program recently started. The participants will be training to work in the catering business.
Kenny and Vicki York founded Manna Café Ministries in 2008 after years of working with the homeless and poor. Initially they took donated bread and sweets into a local homeless camp, but by the spring of 2010 they had relocated and established Manna Café in Clarksville, TN.
Since that time they and their team of volunteers have served thousands of hot meals and distributed hundreds of thousands of pounds of non-perishable food to area families and individuals. Manna Café's methods have changed over the years, but the mission is still the same: to restore hope, love, and dignity to the broken and downcast.
People who braved the rainy weather on Saturday found not only a festive event, some enthusiastic political candidates ready to discuss the issues, great food and fun, but a way to help the community at large.
Owner Wayne Hall and Manager Mike Jackson have again found the keys to success—provide a great venue, attract terrific cooks, open the festivities to all, and be great hosts.
Be sure to put the Fourth Annual Hilltop Barbecue Cook-off on your "to do" list for next Spring. It's always a terrific event.
Hilltop Super Market
Hilltop Super Market is located at 400 Highway 149, Clarksville TN. From Clarksville, you would take Hwy 48/13 south across the river, turn right on Highway 149 and Hilltop Super Market is located on the left at the top of the hill next to Freds. Hilltop serves the grocery needs of the southern Montgomery county area.
Visit their website at: www.hilltopsupermarket.com.
Photo Gallery