Austin Peay Baseball vs. Tennessee Tech
May 17th-19th, 2012 | Thur: 6:00pm | Fri: 6:00pm | Sat: 1:00pm
Cookeville, TN | Averitt Express Baseball Complex (1,100)

Clarksville, TN – Austin Peay's baseball team wraps up its 2012 regular-season schedule with a visit to Tennessee Tech for a three-game Ohio Valley Conference series.
Due to the upcoming OVC Baseball Championship, the three-game set will begin with a 6:00pm, Thursday contest at Averitt Express Baseball Complex.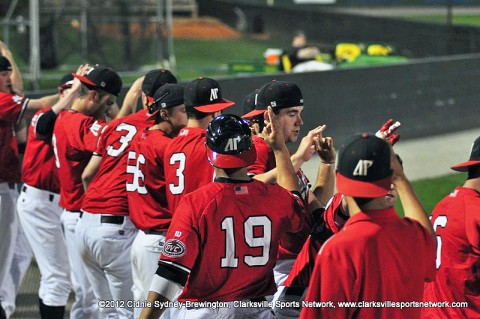 The series continues with a 6:00pm, Friday contest before both teams conclude the regular season with a 1:00pm, Saturday contest.
Austin Peay enters the weekend with a one-game lead on Eastern Kentucky, giving it a "Magic Number" of three – any combination of Austin Peay wins at Tennessee Tech AND Eastern Kentucky losses at Murray State totalling three – to win the 2012 OVC regular-season title outright. The Govs will gain a share of the title – and will still be the No. 1 seed –  with any combination of the above equalling two.
After an up-and-down 9-7 mark in April, the Govs have won six of nine games in May. In OVC play, center fielder Michael Blanchard has led the Govs with a .402 batting average that ranks 7th among OVC hitters. Shortstop Reed Harper has slowly caught up with his teammate and is batting .394 in league play, ranking 11th among OVC hitters.  Harper also leads the Govs with a .338 batting average and 14 doubles on the season as a whole.
Second baseman Jordan Hankins holds the team lead with 55 RBI while posting a .325 batting average. Third baseman Greg Bachman has 12 home runs – one of seven OVC hitters with 12 or more home runs – and 51 RBI while batting .302 this season.
On the mound, APSU had to make a late change to its rotation last weekend and will stick with that rotation this weekend… senior Zach Toney, the Govs No. 1, has a 4-0 record and a 1.58 ERA in OVC play that ranks 2nd among regular starters this season.
Junior Casey Delgado, who has a 3-2 record and 5.37 ERA in OVC action, made his third start as the Govs No. 2 against Morehead State. Senior Andy Cox moved into No. 3 spot and threw six scoreless innings in his first-ever OVC start last weekend.
About Tennessee Tech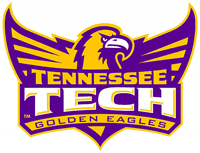 The Golden Eagles are battling for one of the six spots in the OVC tourney, sitting one-half game behind both Southeast Missouri and Morehead State, meaning TTU must win one more game than either of those teams to make the field. Tennessee Tech has lost nine of its last 11 games, including seven of nine in OVC play. Five of those nine losses have been by one run.
Sophomore first baseman Zach Stephens is the Golden Eagles big bat, leading the team in average (.383), home runs (17) and RBI (50) and ranking 5th among Division I hitters in home runs, 31st in average and 37th in RBI.
Game 1 starting pitcher Tristan Archer has a 1-3 record and 5.01 ERA in league play, but enters the final weekend seeking his first win since March 30th. Matthew Shepherd brings a 3-2 OVC record and 5.13 ERA into his Game 2 start. David Hess has started three of TTU's last four Game 3's and has posted a 2-4 record and 5.75 ERA in league action.
Govs Post Third OVC Series Sweep
Down Morehead State
Austin Peay wrapped up the home portion of its 2012 schedule by sweeping Morehead State in a three-game OVC series. The Govs offense posted a .406 batting average against the Eagles pitching – its best mark in a league series this season.
Meanwhile, APSU's pitching staff tossed a 2.00 ERA and held MSU hitters to a .154 batting average, allowing 14 hits in the series.
Govs OVC Starters Eat Up Innings Against Eagles
Austin Peay's weekend starting rotation has had its struggles this season failing to combine for 20 innings in five of the seven three-game league series this season. The starting rotation of Zach Toney, Casey Delgado and Andy Cox combined to throw 22 of the 27 available innings against Morehead State.
It was the second-most innings thrown by a weekend starting rotation, just shy of the 23 innings at Eastern Kentucky.
Toney Twirls Govs First Complete Game Shutout Since '07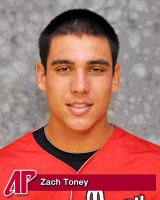 Senior starter Zach Toney tossed a complete-game, two-hit shutout to open the Morehead State series, May 11th. He opened the contest retiring the first seven batters he faced. Toney then retired 10 straight batters after allowing his first hit in the fifth inning.
It was the first nine-inning shutout by a Govs pitcher since Shawn Kelley blanked UT Martin in a six-hit outing during the 2007 season. Toney allowed three walks but struck out a career-high 10 batters in the win.
Week 13: Hankins Earns Share Of Adidas/OVC Weekly Honor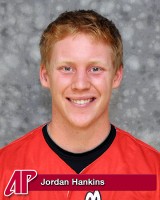 Sophomore second baseman Jordan Hankins was named the adidas® OVC Co-Player of the Week, May 14, after batting .429 (9-for-21) with eight RBI in the Govs five games during the previous week. He had a big hand in Austin Peay's three-game sweep of Morehead State, batting .538 (7-for-13) with six RBI in the series.
Hankins opened the series with a 2-for-2, three RBI performance. He went 3-for-6 with three RBI in the series' second game, including a two-run double that supplied the game-winning runs. Hankins wrapped up the series with a 2-for-5 effort.
Week 13: Cox Picks Up Share Of Adidas/OVC Weekly Honor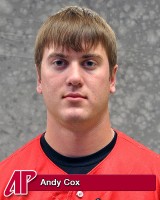 Senior pitcher Andy Cox was named the adidas® OVC Co-Pitcher of the Week with wins in both of his starts during the week, allowing one run in 11 innings of work (0.82 ERA). He won his May 8 start against Lipscomb, allowing a first-inning run in a five-inning outing that saw him allow five hits while striking out four.
Cox then started on three days rest in the Morehead State series finale, May 15th, and pitched admirably, tossing six scoreless innings and allowing just three hits while striking out a career-high six batters. For the week, he issued just one walk and struck out 10.
Injury Bug Strikes In Week 13
The injury bug struck during Week 13 with two Govs regulars missing contests due to various injuries. Starting catcher P.J. Torres has missed five games and is listed day-to-day with a lower body injury.
Game 2 starter Ryan Quick missed his regular start against Morehead State for precautionary reasons while diagnosing an upper body injury and will be available at Tennessee Tech.
Probable Starting Pitchers
| | | | | |
| --- | --- | --- | --- | --- |
| Date | Time (CT) | Austin Peay Starter | Opponent's Starter | APSU Radio/Internet |
| Thu. | 6:00pm | LHP Zach Toney | RHP Tristan Archer | WVRY 105.1 FM |
| | | (Sr., 5-2, 2.97 ERA) | (Jr., 3-4, 4.46 ERA) | LetsGoPeay.com |
| Fri. | 6:00pm | RHP Casey Delgado | RHP Matthew Shepherd | WVRY 105.1 FM |
| | | (Jr., 6-4, 6.39 ERA) | (Sr., 4-4, 5.79 ERA) | LetsGoPeay.com |
| Sat. | 1:00pm | RHP Andy Cox | RHP David Hess | WVRY 105.1 FM |
| | | (Sr., 4-1, 2.63 ERA) | (Fr., 3-6, 6.83 ERA) | LetsGoPeay.com |
STATISTICAL COMPARISON: GOVS VS. GOLDEN EAGLES
TEAM
BA
RPG
HR
RBI
SLG
OBP
SB-A
ERA
H/9
BB/9
SO/9
BAA
FLD
APSU
.295
6.8
53
391
.447
.394
66-96
4.81
9.29
4.62
7.08
.269
.966
TTU
.300
6.2
46
288
.436
.391
24-34
6.43
11.17
4.27
6.97
.303
.966