Clarksville Massage Therapy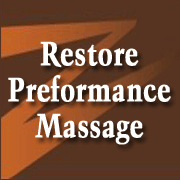 Clarksville, TN – A veteran triathlete who is now a licensed massage therapist will lead a new massage therapy practice dedicated to sports massage treatment, therapeutic, Swedish and deep tissue massage.
Restore Performance Massage, also called RPM Massage, is located inside the Clarksville Chiropractic Center building on Madison Street next to Chick-Fil-A. The new business opened Monday, May 7th.
Russ Shemberger, whose athletic background is in the sport of swimming and triathlon, is the practice's newly licensed massage therapist.
"My intention is to help heal people," said Shemberger, who also uses massage therapy to help maintain his competitive performance in triathlons. "That's the basic premise of our name, Restore Performance."
Shemberger became interested in massage therapy as a career after receiving one a couple of years ago. Reading articles in running and triathlon magazines continued to pique his interest in the field.
"I felt like my body had improved," he said, recalling his first massage therapy treatment. "I also read articles on the after-effects of massage and how tissue is healed. I knew what those words were saying, that massage helps to speed up recovery. I am a firm believer in that, as both a client and a massage therapist.
Shemberger, who has worked as a paramedic in Kentucky and Tennessee, is a 2012 graduate of Miller-Motte Technical College's massage therapy program. He graduated in April with a perfect 4.0 grade-point average and became certified as a LMT in Tennessee. A certified swim coach, he competes in several foot races and triathlons yearly throughout the country.
RPM Massage offers sports massage therapy, deep tissue, therapeutic and Swedish massage. Chair massages also can be given.
RPM Massage is open from 8:00am-4:00pm, Monday, Tuesday, Thursday and Friday and from 10:00am-6:00pm, Wednesday. To make an appointment, call 931.647.3692.
RPM Massage also can be found on Facebook: http://www.facebook.com/rpmmassage.