APSU Sports: Austin Peay Golf

Bowling Green, KY – Playing his finest golf of the weekend, Austin Peay State University sophomore Anthony Bradley shot a two-over 74, Saturday, to move up eight places in the final round of the NCAA Golf Regional, held at The Club of Olde Stone.
Bradley's 74 left him at 232 for the three rounds and a 56th -place finish. He entered the day tied for 64th.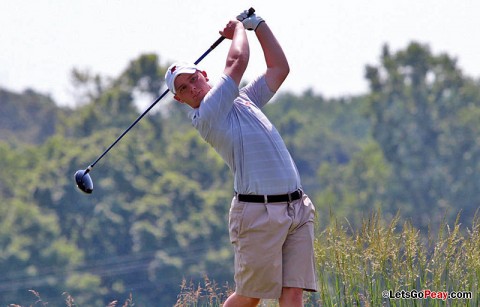 "I thought Anthony really hit it well today," APSU coach Kirk Kayden said. "He played like his old self today. He was relaxed.
"He hit a lot of fairways off the tee and hit a lot of greens in regulation. He hit a lot of good shots today. I was really proud of him."
After opening Saturday with a bogey on No. 10, the Ivybridge, Devon, England, native settled down to play consistent golf for the next six holes. However, No. 17, which he had made par the previous two days, saw Bradley card a double bogey six.  After making par on No. 18, he entered the final nine holes at three-over.
Bradley, however, began gaining some rhythm. After making par on No. 1, the Governor, playing in his first NCAA Regional, birdied No. 2-his first birdie since No. 18 on Day 1. However, he gave that shot back on No.3 with a bogey.
But Bradley then birdied the par-four No. 5 and then also birdied No. 7, putting him just one over heading into the final two holes.  No. 18, however, pushed him back to two-over when he bogeyed the par-four hole.
"He learned a lot from this weekend," Kayden said. "He is go to leave here with a good taste in his mouth on how he played today."
"He learned so much from playing against the elite and playing such a tough course. Anthony is going to draw on this weekend-he knows what he has to do to get where he wants to be."
Grant Leaver was the last Gov to play as an individual in the NCAA Regional in 2008, but he was a senior. Bradley has two more years with the Govs.
"With Grant, his appearance was icing on the cake for a great career," Kayden said. "Anthony is a young player and can build on this for the future."
Chattanooga stunned the field Saturday, rallying to win the event with 859, slipping past both Texas A&M (860) and UCLA (863), the tourney's leader the first two days. The Mocs shot a four-under 284, Saturday, to come from four shots down on the final day.