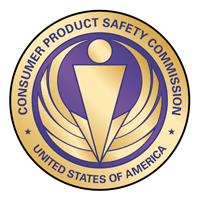 Washington, D.C. – The U.S. Consumer Product Safety Commission and Health Canada, in cooperation with the firm named below, today announced a voluntary recall of the following consumer product. Consumers should stop using recalled products immediately unless otherwise instructed.
Toilet safety locks and cabinet locks can fail letting children can gain unintended access to water and dangerous items.
It is illegal to resell or attempt to resell a recalled consumer product.
Product Information
Name of Product: Toilet and Cabinet Locks
Units: About 183,000 toilet locks and 685,000 cabinet locks
Importer: Dorel Juvenile Group (DJG) Inc., of Columbus, IN.
Hazard: Young children can unexpectedly disengage the toilet locks and gain access to water in the toilet, posing the risk of drowning. The cabinet locks are being recalled because young children can disengage the lock, posing the risk of injury from dangerous or unsafe items stored in the cabinet.
Incidents/Injuries: DJG has received 110 reports of toilet locks that did not adequately secure the lid, including eight reports of children, under the age of two, who were able to disengage or break the lock. In addition, DJG has received 278 reports of cabinet locks that did not adequately secure the cabinet, including 71 reports of children between the ages of eight months and five years old who were able to disengage the cabinet locks. In one of the reported incidents, a 13-month-old boy swallowed small, toxic beads from a craft kit. The child was admitted to the hospital, observed overnight and released the next day.
Description: This recall involves Safety 1st Sure Fit toilet locks with model numbers 48003 and 48103. The toilet lock is attached to the tank behind the lid and is intended to prevent a child's access to the toilet bowl. This recall also involves Safety 1st cabinet slide locks with model numbers 12013 and 12014. The cabinet slide lock is attached to cabinet knobs or handles to prevent access to the contents of the cabinet. Model numbers can be found on the back of the locks.
Sold at: Bed, Bath and Beyond, Burlington Coat Factory, Great Beginnings, Home Depot, Target and Walmart from January 2005 through April 2010 for between $8.00 and $20.00 for the toilet locks, and from January 2000 through March 2009 for between $2.00 and $11.00 for the cabinet locks. Amazon.com sold both locks through April 2012.
Manufactured in: China
Remedy: Consumers should immediately remove the recalled locks and contact DJG for a free replacement lock of a different model. When removing the recalled locks, consumers are urged to immediately store dangerous items out of reach of children and to prevent unsupervised access to bathrooms.
Consumer Contact: For additional information, please contact DJG toll-free at 877.416.8105 between 8:00am and 5:00pm ET Monday through Friday, or visit the firm's website at www.djgusa.com. In March 2012, 900,000 Safety 1st Push 'N Snap cabinet locks were recalled due to lock failure.
The U.S. Consumer Product Safety Commission (CPSC) is still interested in receiving incident or injury reports that are either directly related to this product recall or involve a different hazard with the same product. Please tell us about your experience with the product on www.SaferProducts.gov
About the U.S. Consumer Product Safety Commission
CPSC is charged with protecting the public from unreasonable risks of injury or death associated with the use of the thousands of consumer products under the agency's jurisdiction. Deaths, injuries, and property damage from consumer product incidents cost the nation more than $900 billion annually. CPSC is committed to protecting consumers and families from products that pose a fire, electrical, chemical, or mechanical hazard. CPSC's work to ensure the safety of consumer products – such as toys, cribs, power tools, cigarette lighters, and household chemicals – contributed to a decline in the rate of deaths and injuries associated with consumer products over the past 30 years.
Under federal law, it is illegal to attempt to sell or resell this or any other recalled product.
To report a dangerous product or a product-related injury, go online to: SaferProducts.gov, call CPSC's Hotline at 800.638.2772 or teletypewriter at 301.595.7054 for the hearing and speech impaired. Consumers can obtain this news release and product safety information at www.cpsc.gov. To join a free e-mail subscription list, please go to www.cpsc.gov/cpsclist.aspx.