APSU Sports: Austin Peay Baseball

Jackson, TN – Austin Peay State University sophomore second baseman Jordan Hankins and senior pitcher Zach Toney were each named first-team All-Ohio Valley Conference, the league office announced during the postseason baseball awards banquet, Tuesday night.
Hankins and Toney, who were both second-team All-OVC selections last season, become the Govs 85th and 86th first-team All-OVC selections all-time.
In addition, Austin Peay had three players selected to the league's second team: senior third baseman Greg Bachman, senior outfielder Michael Blanchard and junior outfielder Cody Hudson.
Jordan Hankins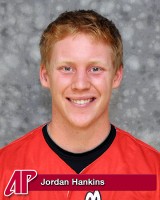 Hankins, of Wentzville, MO, finished the regular-season with 57 RBI and was third in the conference's RBI race. His .332 batting average was one-point behind junior shortstop Reed Harper for the team lead at regular season's end. He also had eight home runs.
Hankins proved to be the toughest Austin Peay bat to strikeout as he recorded just one strikeout in 105 conference at-bats and enters the postseason with 12 strikeouts in 214 at-bats – his 17.8 at-bats per strikeout ratio ranking 16th nationally.
Zach Toney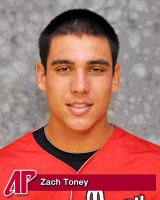 Toney, of D'Iberville, MS, missed the second and third weeks of conference play due to an upper body injury, but came back in improved fashion and took over the No. 1 role in the weekend rotation by regular season's end.
In the six starts since returning to the Govs rotation, Toney posted a 3-1 record with a 1.99 ERA and held opponents to a .176 batting average. He finished the regular season with a 5-3 mark, 3.18 ERA and 71 strikeouts in 76.1 innings pitched.
Greg Bachman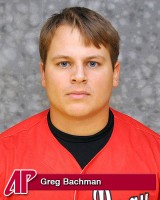 Bachman, of Germantown, TN, is a second-team All-OVC selection for the second consecutive year. He finished the regular-season as the OVC's RBI leader, posting nine RBI in the final weekend to finish the regular season with 60 RBI.
Bachman reached that mark with an impressive 15 home run campaign. That is the  best by a Govs hitter since the 2002 season. He also batted .319 to finish third in the Govs lineup in batting average.
Michael Blanchard
Blanchard, of Memphis, TN, also is a second-team All-OVC selection for the second straight season. The Govs leadoff hitter, he finished the regular season with a .308 batting average and a .417 on-base percentage.
Blanchard has gained a reputation as one of the most dangerous leadoff men in the league thanks largely to his bunting prowess, as 21 of his 66 base hits came via the bunt.
Cody Hudson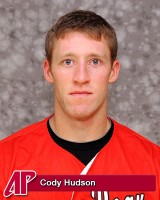 Hudson, of Germantown, TN, was named to an All-OVC team for the first time in his career. He finished the regular season with a league-leading 21 stolen bases. Hudson had 15 stolen bases during the conference slate, the only OVC player to reach double-digits in that category.
Hudson is batting a career-best .315 entering the postseason with 11 doubles, six home runs and 32 RBI, proving his versatility.
Austin Peay posted a 34-21 record during the regular season and won a share of its second consecutive OVC regular-season title with a 19-7 record. Austin Peay, the defending OVC tournament champion, begins its run for a second-straight tourney title with a 7:00pm, Thursday contest at Pringles Park in Jackson.