Clarksville, TN – In just seven years, Treva Gordon has become an actress, singer, playwright, writer, motivational speaker, mentor, TV and radio personality. She has made an impact on not only Clarksville, but other cities in Middle Tennessee. "We're doing some great things that's affecting the community. We're excited about what God is doing," she said.
Gordon was born in Detroit, MI. When she was two, her family relocated to River Rouge, MI. Working hard was something that she learned to do at a young age. Gordon had her first job when she was seven. For $1.00 a day, she would sweep the floor at a store in her neighborhood.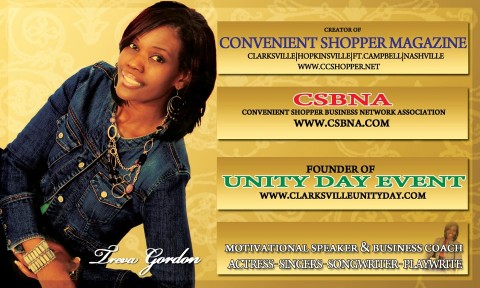 It didn't take her long to grow into her 5'10" frame. Her height and athletic skill allowed her to excel in high school sports like volleyball and softball. After graduating from River Rouge High School in 1988, she attended Henry Ford Community College in Dearborn, MI where she worked several jobs to pay for her education.
In 1992 she joined the Army, where she worked as a United States Army Transportation Specialist (88M). It was around this time that she met her husband, Robert. They were married in 1993 and eventually had three children. "In 1995, I exited the military to become a stay at home wife and mother for five years," said Gordon.
Gordon enrolled in Austin Peay State University and graduated in 2005 with a B.S. Degree in Corporate Communications and Marketing. (Her grade point average at the time of graduation was 3.5). During her years at APSU, she was a reporter for the campus newspaper, The All-State, and served as student president of the International Business Communicators (IABC) student chapter.
It was a near death experience in 2004 that sparked Gordon's desire to achieve her goals. She nearly died giving birth to her daughter in Vanderbilt Hospital in Nashville. "I promised God that everything I told him I'd do, I would do," she said. "It's like I'm on a mission and I can't stop."
2005 was the year when Gordon began to turn her dreams into reality. She and her husband started The Clarksville Convenient Shopper Magazine. "I started it with no money in the bank," Gordon revealed. "It was just an inspired vision. We had to pre-sell all of our advertisements in advance. The only employees were us. It was hard work, but we believed… now it's full of advertisers."
In addition to Clarksville, the magazine is also available in the Nashville area. In 2007, Gordon and her husband established CCS Publications, which published a magazine called Fort Campbell MWR BOSS Magazine (Better Opportunities for Single Soldiers). In 2009, CCS Publications shortened its name to "CCS."
Gordon is one of the most outgoing and friendly people in the Clarksville community. She is present at many events, often appearing as the well-dressed charismatic woman with a camera or microphone in her hand.
"Since 2005, I have participated in, and or supported more than 150 community-wide events," Gordon said. "In 2010, I co-hosted an event in Paris, TN alongside Ambassador Bobby Jones for the WORD Network that broadcasts to millions of viewers. I am the first in my immediate family to ever go to college and to graduate. I am the first to graduate with honors from a University."
In 2011, Gordon debuted her first play, "Guess What I Heard?" The next year, she produced "Guess What I Heard? Home For The Holidays." Both shows were impressive and turned out to be successful.
Gordon's most recent achievement is "The Treva Gordon Show," a weekly program that airs on youtube.com. Noticing that her single friends would sometimes complain about their lack of intimacy, Gordon decided to create a program where different people of all ages and occupations would offer their advice.
On the show, Gordon interviews people in the community about how to improve the lives of single people. The participants are from all backgrounds and cultures. Some are single, others are married, and some are swingers. Each person offers a new perspective. The show has become a quick hit.
"Maybe America can help single people come up with some answers," Gordon said. "I don't have all the answers, so we want you to tune in and help these single folks out."
Gordon was honored with the Woman of the Year Award last year, and was the recipient of the Business Woman of The Year Award by Gospel Music City Awards in 2012. She wrote and performed a song in 2011 called "Devil U's a lie." Gordon also became an evangelist last year. "I give God all the glory," she said. "I am so blessed to do what I do. As I look to the future, I can only give God the glory for what's ahead."
The future looks bright for Gordon, who continues to achieve. To find out more about Gordon, visit trevagordon.com.