Celebration Will Help Commemorate Tennessee State Parks' 75th Anniversary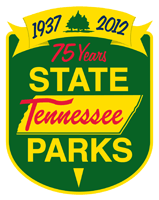 Burns, TN – The year 2012 marks Tennessee State Parks' 75th Anniversary and to help commemorate this important milestone, Montgomery Bell State Park will hold a special community event on May 25th, beginning at 11:00am. The event is open to the public.
Highlights at the anniversary event will include a live Birds of Prey program given by Regional Interpretive Specialist David Haggard, showcasing our nation's symbol – the American Bald Eagle – among other unique birds.  Canoes and paddleboats will also be provided to park visitors at no charge on a first come, first served basis.
The event also will feature a special presentation on the 75 years of Montgomery Bell State Park, given by State Naturalist Randy Hedgepath.  Hot dogs, hamburgers, along with a variety of side dishes and desserts will be provided, courtesy of the Montgomery Bell State Park restaurant and the Friends of Montgomery Bell.
"We are very excited to celebrate Tennessee State Parks' 75th Anniversary this year," said Environment and Conservation Commissioner Bob Martineau.  "Montgomery Bell State Park has a unique history and is one of our most beautiful state parks, offering great amenities such as its inn and conference center, popular restaurant and award-winning golf course.  It is certainly a fitting backdrop for one of the many statewide celebrations we will be holding throughout the year.  It's also a great opportunity to thank the Friends of Montgomery Bell and the entire local community for all their hard work and support of this wonderful park.  We hope everyone can come out and join us on Friday."
The 75th Anniversary Event at Montgomery Bell State Park will be Friday, May 25th at 11:00am. It will take place at the Montgomery Bell State Park – Swim Area Pavilion / Lake Acorn.
The following people will be in attendance
Environment and Conservation Commissioner Bob Martineau
Department of Tourist Development Commissioner Susan Whitaker
Deputy Commissioner Brock Hill, Parks and Conservation
Montgomery Bell Park Manager Pat Wright
Special Adviser to Tennessee State Parks Mike Stubbs
Local elected officials and community members
There will also be a Birds of Prey program, special history presentation, free rentals for canoes and paddleboats, special anniversary activities, and a family-friendly cookout.
Montgomery Bell State Park is located at 1020 Jackson Hill Road, Burns, Tennessee.
The Tennessee State Parks system was established through legislation in 1937, and those laws – with modifications and additions over the years – remain the framework for park operations today.  As in most states, Tennessee began in cooperation with federal programs that instigated individual parks. Later, Depression era recovery programs gave a boost to the idea and the possibility of creating parks. The Civilian Conservation Corps and Works Progress Administration worked on land conservation, but also delved further into the actual planning and construction of what would become the first of 53 Tennessee State Parks.
Today, there is a state park within an hour's drive of just about anywhere in Tennessee.  A 2009 University of Tennessee study highlights the positive economic impacts that state parks provide local communities, particularly in rural areas of the state.  The study found that for every dollar spent on trips to Tennessee State Parks, an additional $1.11 of economic activity was generated throughout the state.  When the direct and indirect expenditures were combined, the impact of Tennessee State Parks to the state's economy was $1.5 billion in total industry output, supporting more than 18,600 jobs.
"Our vision statement highlights the inherent value of our natural environment, along with the value of the many physical reminders of Tennessee's past," added Deputy Commissioner Brock Hill.  "Tennessee's state parks have played such an important role in our history, and they play a critical role in our health and quality of life, which will benefit Tennesseans well into the future."
Tennessee's state parks deliver a rich fabric of natural landscapes, wild places, preserved ecologies, outdoor recreational opportunities and protected historic scenes and resources – together representing the heritage of Tennessee in the landscape.
Tennessee's 54 state parks and 82 state natural areas offer diverse natural, recreational and cultural experiences for individuals, families or business and professional groups. State park features range from pristine natural areas to 18-hole championship golf courses. For a free brochure about Tennessee State Parks, call toll free at 1.888.867.2757. For upcoming events in connection with the 75th Anniversary of Tennessee State Parks, please visit the state parks website at
www.tnstateparks.com
.
To help commemorate Tennessee State Parks' 75th Anniversary milestone, the department has launched an innovative new microsite with the Tennessee Department of Tourist Development at www.tnvacation.com, honoring the rich heritage of Tennessee State Parks and showcasing the outdoor adventures available at park sites today. Among many great features, the microsite highlights a wide range of richly-illustrated content that will help plan your next park visit, an interactive timeline that stretches all the way back to the beginning of Tennessee State Parks to the most current events, and a fun Junior Ranger game.
Montgomery Bell State Park is located in Burns, Tennessee, just seven miles east of Dickson.  The rolling hills of Dickson County contained an abundance of iron ore, which was considered more precious than gold to the builders of young America, luring hundreds to this area of Middle Tennessee.  The iron industry in Dickson County has been long silent, but the 3,782 acres that make up Montgomery Bell State Park still show signs of its presence.
As a place of quiet, natural beauty, Montgomery Bell is home to fox, squirrel, raccoon, opossum, deer and a wide variety of birds and wildflowers.  For additional information about the park, including directions, please call toll free at 800.250.8613 or visit the website at www.tnstateparks.com/MontgomeryBell.