APSU Sports: Austin Peay Baseball

Indianapolis, IN – Austin Peay State University's baseball team will continue its postseason trek with a trip to Eugene, Oregon for the Regional Rounds of the 2012 NCAA Baseball Championship.
The Govs will travel west to face the Oregon Ducks, which received the No. 5 National Seed in the tournament. Joining them will be Indiana State and Cal State Fullerton.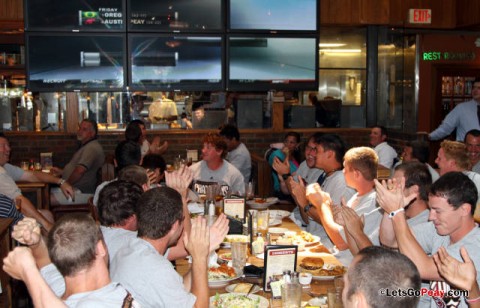 Austin Peay (38-22) earned the Ohio Valley Conference's automatic bid, becoming the first team to lose its first game in the tournament and coming back to win the championship. The Govs also won a share of the OVC regular-season title with a 19-7 league mark.
Austin Peay is making its fifth NCAA Baseball Championship appearance and its first-ever back-to-back showings. The Govs played in the Atlanta Regional last season, defeating host Georgia Tech in the opening game before falling to eventual regional-champion Mississippi State and Georgia Tech.
Oregon (42-17, 19-11 Pac-12) finished third in the Pac-12 Conference regular-season race. The Ducks enter the tournament at the No. 5 National Seed – the program's first-ever national seed. It is Oregon's fourth NCAA Tournament appearance and second since the program's revival in 20009.
Cal State Fullerton (35-19, 17-7 Big West) won the Big West Conference regular-season title. The Titans – ranked No. 14 in the Monday's Collegiate Baseball poll – won the title on the regular season's final day. It will be Cal State Fullerton's 34th NCAA Baseball Tournament appearance and their 21st consecutive showing.
Indiana State (41-17, 0-0 Missouri Valley) received an at-large bid to the tournament after winning the Missouri Valley Conference's regular-season crown. The Sycamores did not post a win in the Missouri Valley Championship, falling to Creighton and Evansville in consecutive games. It will be Indiana State's eighth appearance in the Championship, but first since 1995.
Austin Peay has never faced Oregon or Cal State Fullerton. In fact, the Govs trip to Eugene will be its farthest trip west in program history. Austin Peay has only ventured as far west as Wichita, Kansas and that came during the 1991 season. The Govs and Sycamores are old foes with 36 previous meetings. Indiana State holds a 22-14 lead in the all-time series, including a win in the last meeting between the two teams in 2010.
2012 NCAA Baseball Championship
Eugene Regional – Eugene, Oregan
Friday, June 1st
Game 1: Austin Peay vs. Oregon State
Game 2: Indiana State vs. Cal State Fullerton
Saturday, June 2nd
Game 3: Losers of Games 1 & 2
Game 4: Winners of Game 1 & 2
Sunday, June 3rd
Game 5: Winner Game 3 vs. Loser Game 4
Game 6: Winner Game 4 vs. Winner Game 5
Monday, June 4th
Game 7: If necessary, same teams as in Game 6