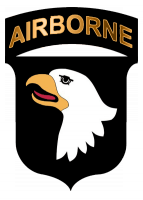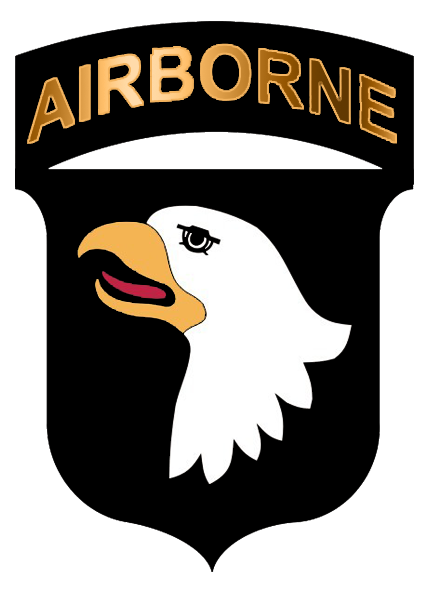 Fort Campbell, KY – On Monday, Fort Campbell held their annual Memorial Day Wreath Laying Ceremony at the 101st Airborne Division Headquarters.
The ceremony featured an invocation by the 101st Airborne Division Chaplain Paul Hurley, remarks by Maj. Gen. John C. McConnell, a wreath laying, a 21 gun salute, and the playing of taps.
The ceremony honors and recognizes the veterans of 101st Airborne Division (Air Assault); and the 7,000 Screaming Eagles who have lost their lives in battle since the formation of the division, along with their families and loved ones.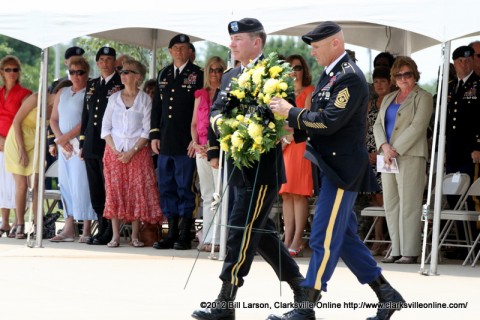 Paraphrasing Palms 27, the 101st Airborne Division Chaplain Paul Hurley said, "We hear in sacred Scripture: The Lord is my light and salvation whom shall I fear? Though an army besiege me, my heart will not fear; though war break out against me, even then will I be confident."
He then opened the prayer:
Almighty and everlasting God, the creator and sustainer of life. We give thanks for the lives of all these great Americans. We stand here to honor these great Americans who willingly risked their safety to serve the country, and their brothers and sisters.

Continue to comfort the family and friends as they mourn their loss, let them know of the gallant and noble service of these men and women. Lord help us to remember them. Help us to honor their sacrifice for freedom, through our devotion to duty, and through our resolve in all missions.

May the souls rest in everlasting peace, Amen!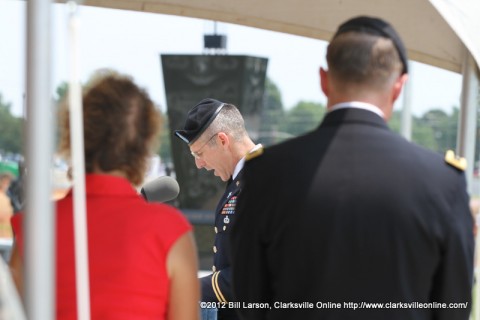 Maj. Gen. James C. McConnell, the Commanding General for the 101st Airborne Division (Air Assault) spoke next.
Good morning, distinguished guests, friends, families, and soldiers of the 101st Airborne Division and Fort Campbell. I would like to extend a welcome today, and a special welcome to our Gold Star Family Members whose loved ones have made the ultimate sacrifice, that we recognize today; and also a special recognition to our community leaders, Mayor Bowers; and also our champions of Fort Campbell.Thank you for joining us today. It is a very special occasion in that this solemn day is where the citizens of a grateful nation take time to pay tribute to those soldiers who have made the ultimate sacrifice in the defense of our great nation, and for the freedom of others around the world.

Memorial Day was officially proclaimed on the 5th of May in 1868 by Gen. John Logan, the national commander of the Grand Army of the Republic, and was first observed on the 30th of May in 1868. The first observance was marked by volunteers placing flowers on the graves of Union and Confederate soldiers at Arlington National Cemetery in Washington DC.

I was Arlington yesterday, and I had the privilege of participating in an event at the 101st Memorial Monument, and there were soldiers there from World War II to the present, to include Gold Star Family Members and Wounded Warriors. It was a wonderful event.

The 101st lineage remain strong in our national capital, and throughout the world; because whenever the need has been the greatest in fighting the fiercest the 101st Airborne Division and the units stationed at Fort Campbell have answered the call.

It's been answered in the drop zones of Normandy, in the fields of Holland, in the snows of Bastogne, in the jungles of Vietnam, in the sands and streets of Iraq and in the mountains of Afghanistan, where units continue to serve today.

It's been answered every day for countless years by proud American who had volunteered to go into the fray, who answered the call when the bell was tolled and the cry went out, "Whom shall I send?" The units of Fort Campbell have always been the ones who have replied here. "I am, send me!"

Maj. Gen. James C. McConnell, the Commander of the 101st Airborne Division (Air Assault) addresses the audience

This latest generation is no different; within a month of the attacks on the World Trade Center towers and, and the Pentagon; the Rakkasans, Task Force Destiny, the 5th Special Forces Group, and Task Force 160th were called upon to answer our nations needs. In the decades since 9/11 units from Fort Campbell have deployed time and time again into harms way.

In the process another great generation of soldiers had been born, and heroes have been made. We've seen young medics who go through a hail of bullets to treat a wounded buddy applying a life-saving tourniquet, and using their own body as a shield protecting their buddies from the enemy, sacrificing their lives so a fellow trooper could live! We seen Kiowa pilots even after suffering gunshot wounds, put their helicopter between enemy fire while fellow injured soldiers are being hoisted into a medevac aircraft. These man without hesitation go to their buddies aid like so many heroes throughout our history to have done, and they've done it so that others may continue to live free!

When I go to my office in the McAuliffe auditorium at the front of the building, I walk down the back steps and I enter a long hallway appropriately named the Screaming Eagle Aerie, or literally the Eagles Nest. Within that corridor are the names of all of the screaming Eagles, who have given their last full measure. Over 7,000 since the division was activated on the 16th of August in 1942.

And as I make that walk, I pass first the names of those fallen Eagles that we lost in World War II, over 2800 Eagles who when the war began had no history, but had a rendezvous with destiny. To their front is a World War II battlefield cross, brown jump boots, and M1 carbine rifle, helmet, and dog tags.

Next, is a wall with the names of those who gave all in Vietnam, over 3500 fallen Eagles. To their front is a Vietnam Battle Cross, green jungle boots, M-16, a helmet covered in green camouflage, and silver dog tags.

As you move further down the corridor there is a glass case with a piece of steel from the site of the World Trade Center attacks. Above it stands the names all the screaming Eagles who have made the ultimate sacrifice since 9/11.

Beyond those names a blank tapestry continues. We don't know what we will be required of our soldiers in the future, and we hope and pray that there will be no more names added on that wall.

Yet we know with certainty since 1944 screaming Eagle soldiers, and those stationed here at Fort Campbell have been answering the nations call, and will continue to do so. Incredible young men and women who step forward willing to sacrifice all, so that others may enjoy the freedom and security of our great country.

To put it in perspective many of our young soldiers were still in elementary school when this current war began, and yet they have grown up, and volunteered to serve their nation; not in a time of national calm, but rather at a time when they knew that their decision to swear the oath to support and defend the Constitution of the United States would require them to go off to war, and could require them to make the ultimate sacrifice.

The choices we make. Define the lives that we live. And for that reason I'm truly proud that these extraordinary young men and women continue to carry the torch lit by their forefathers, and strive to live up the legacy left to them by the heroes who have gone before them. So, as we pause on this day and reflect; we reflect on the proud history of this division, our Army, and this nation. We honor those who have given so much, and we give thanks to those who continue to serve.

May God bless you, our nation, and all our soldiers who continue to go forth into harms way to make this world a better place for all to good morning, distinguished guests, friends, families and soldiers of the live.

Thank you for your attendance today, and Air Assault!
Following his remarks, Maj. Gen. James C. McConnell and Sgt. Maj. Scott Schroeder laid a wreath at the foot of the monument to those 101st Airborne Division soldiers who have given their all for their country. A moment of silence was held, a 21 gun salute was fired, and the somber notes of taps sounded out across the courtyard.
For the families in the audience, the ceremony cannot help but to bring back the pain of their enduring loss; it is somewhat tempered by the knowledge that their love ones sacrifices were honored, that the nation on this one day at least felt a portion of their pain, and their sacrifices were not made in vain.
While for most people Memorial Day is simply another day off work, with maybe a moment spent reflecting on the meaning of the day; for those who have sacrificed it all, and the families that still love them, every day is Memorial Day, and always will be!
Photo Gallery