APSU Sports: Austin Peay Baseball

Nashville, TN – Jon Clinard, who not only has been a leader for the Austin Peay Governors baseball team during his career but Austin Peay State University athletics as well, has been named the 2011-12 recipient of the Steve Hamilton Sportsmanship Award, to be presented at the annual Ohio Valley Conference Honors Brunch, Friday, at the DoubleTree.

The Hamilton Sportsmanship Award is presented annually to an Ohio Valley Conference male or female student-athlete of junior or senior standing who best exemplifies the characteristics of the late Morehead State student-athlete, coach and administrator Steve Hamilton.

Criteria include significant athletics performance along with good sportsmanship and citizenship. The award is voted on by the Conference's athletics directors and sports information directors. Clinard will not be at the awards brunch because of Austin Peay's participation in the NCAA Baseball Regional in Eugene, OR. However, his taped acceptance speech will be shown to the audience.

Clinard becomes the first baseball player to receive the award. He also becomes the eighth Austin Peay recipient since the award was instituted in 1998-99 to honor the much-beloved and respected OVC icon.

The Cleveland native has been a four-year starter for the Governors baseball team at four different positions-shortstop, second base, outfield and designated hitter, starting more than 175 contests. He has been a career .300 hitter and ranks in the Top 20 all-time at APSU in several offensive categories, including stolen bases (third), hits, runs scored, triples and walks.

He was named to OVC All-Freshman team in 2009 and was chosen second-team All-OVC as a second baseman in 2010 while being named preseason All-OVC in 2011.

Clinard helped the Govs to back-to-back OVC regular-season and OVC tournament titles. In 2011, he underwent knee surgery during the final month of the season, missing 15 games. But he returned for the OVC tournament, contributing a key pinch hit in Govs semifinal victory. Returning to starting lineup in NCAA Regional play in Atlanta, Clinard reached base in all three tournament games.

This season he has developed into the ideal No. 2 hole hitter. After an early season stint as the leadoff hitter-permitting 2011 leadoff hitter Michael Blanchard to regain his footing-Clinard was dropped down one spot in the order. His presence allowed the Govs to play "small ball"-his patience and unselfishness allowing Blanchard to steal bases or executing well-placed outs that moved runners to third base-Clinard has an OVC-leading 18 sacrifice bunts to his credit-those 18 sacrifices are a single-season record while his four-year 32 represent a career mark.

Off the field, Clinard was selected to attend the NCAA Leadership Conference (Fall 2011) in Orlando, Fla. Earlier this spring, he received APSU's Male Student-Athlete Leader Award at the University's annual awards ceremony.

A math major and member of the Galois Math Club, Clinard presented a project model of APSU's new math building at Math Conference in Jackson.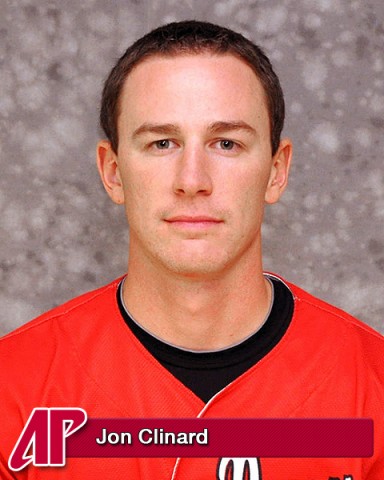 Clinard was heavily involved in Student-Athlete Advisory Council (SAAC), serving as an officer. He also was president of APSU's Fellowship of Christian Athletes (FCA) Huddle Group. Clinard participated in the FCA Food Drive in both Fall 2010 and Fall 2011 to help feed the needy during the holidays in the Clarksville area. He also was the featured speaker at the 2010 FCA Banquet to raise funds for the FCA Huddle group.

In addition, he has been a student leader of the Aqua College Ministry. He was Govs' baseball Bible study leader in Fall 2009 and Spring 2010.

But his community involvement extended beyond the APSU campus. Clinard also participated in World Changers, a mission project to people in need in Savannah, GA. He was a guest speaker at local elementary schools in both 2010-11, talking about the importance of college education, doing the same at youth camps held on the APSU campus. Back home in Cleveland, Clinard was a guest speaker at several youth camps, encouraging middle school and high school-aged kids to remain in school and urging them to attend college. He also read to Burt Elementary School, encouraging the need for a quality education.

Clinard also was present in Spring 2010 and 2011 for opening ceremonies at the local Little League baseball parks, signing autographs and handing out posters. In Summer 2008, he coached at a youth camp in Geneva, NY, to help elementary-age kids learn more about baseball.

A member of the Athletics Director's Honor each semester, Clinard graduated with a 3.3 GPA. He was an OVC Scholar-Athlete Award nominee and twice was nominated for Capital One Academic All-America. He also was a member of Pi Mu Epsilon (Math Honors Society).

Clinard possesses many of the traits of Hamilton, who competed on OVC Championship teams in baseball, basketball and track while at Morehead State. He earned his bachelor's degree in 1958 and a master's degree also from Morehead State in 1963.

Hamilton went on to have a 12-year major-league pitching career and coached in the minor leagues before returning to MSU in 1976 to become head baseball coach. He held that position for 13 years and compiled a 305-275 record while leading the Eagles to five divisional championships and two OVC titles.

He was named Morehead State's Director of Athletics in July 1988 and served in that position until his death in 1997. As the A.D., Hamilton led the program to success on the field, in facilities and in the classroom. During his tenure, a weight room was built, an academic counselor for athletes was added, student-athletes graduation rates improved and the University won the OVC Academic Achievement Banner four times.

Hamilton is the only individual to play in the NCAA Basketball Championship, a Major League Baseball World Series (New York Yankees) and a National Basketball Association Championship Series (Minnesota Lakers).



Sections
Sports
Topics
APSU, APSU Athletics, APSU Baseball, APSU Men's Baseball, APSU Sports, Austin Peay State University, DoubleTree, Eugene Oregon, Governors, Govs, Jon Clinard, Morehead State, Nashville TN, NCAA Baseball Championship, Ohio Valley Conference, OVC, Steve Hamilton Sportsmanship Award