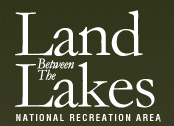 Golden Pond, KY – On Wednesday, May 30th, 2012, the Wildlife Department at Land Between The Lakes (LBL) National Recreation Area received a call from Ray Stainfield, one of their dedicated volunteers who monitors many of LBL's eagle nests.
While monitoring the Duncan Bay area, Stainfield discovered that the eagle nest had fallen to the ground since his last visit.  In checking the area, he found a nestling on the ground that still needed 2 to 3 more weeks of development before it could fly.
With the help of Kentucky State wildlife officials, the Forest Service determined that the eaglet would be too vulnerable to predators and not able to survive. It needed to be rescued.
Curtis Fowler, a wildlife manager at Land Between The Lakes, worked with Woodlands Nature Station staff, Brooke Gilley and Shannon Brockway, plus volunteer Ray Stainfield, to capture the scared eaglet. The Kentucky Department of Fish and Wildlife Resources coordinated the transfer of the eaglet to a wildlife rehabilitator near Louisville, KY. If the young eagle survives, it will be brought back to Land Between The Lakes and released near Duncan Bay again.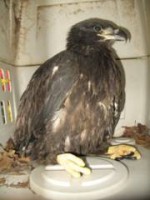 Come Outside and Play at Land Between The Lakes National Recreation Area.  Managed by the Forest Service, U.S. Department of Agriculture, Land Between The Lakes provides outdoor recreation, lake access, and environmental education for the public to enjoy.
Visitors are encouraged to review LBL's official website at www.lbl.org often for Calendar of Events, updates on programs and policies, safety information, maps, and temporary trail and road closures. Follow Land Between The Lakes on www.Twitter.com/LBLScreechOwl.
Additional LBL information can be found on the website or by calling 1.800.LBL.7077 or 270.924.2000.