Clarksville, TN – The newest business to host a Green Ribbon Cutting for becoming Clarksville-Montgomery County Green Certified is family owned and operated Action Air Conditioning Service Inc.
Action Air Conditioning Service Inc. has been providing the Clarksville area with heating, cooling, sales, and service since 1979. They provide heating and cooling services 24 hours a day, 7 days a week for residential and commercial systems.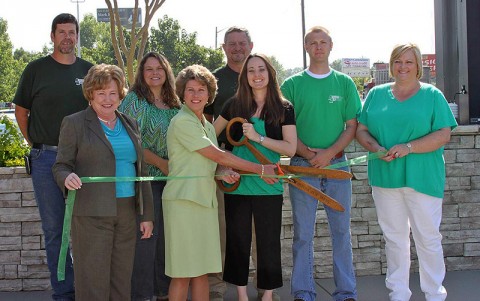 The company has reduced their waste in energy, increased recycling efforts, reusing, and cutting down on fuel and mileage by using a GPS system that optimizes the best use of their time and distance when it comes to service calls.
Operations Manager Nicki Jones, named some of the green initiatives happening in their everyday activities. "We send our newspapers and magazines to Precious Friends for bedding, send toner cartridges to the Humane Society, and recycle our paper, aluminum cans and cardboard. We've gone through about every aspect of our business to identify waste. All major parts are dismantled and recycled and we recently found someone to separate the metal out of our small parts. We are at the point where we recycle almost everything. We adjust the temperature when we are out of the office and are replacing old lighting with efficient light bulbs. We have even set it up so that our paper clips are sent back to us for reuse," Jones mused.
Continuing to look for ways to improve, Action Air Conditioning Service Inc.'s latest goal is to reduce their paper use by up to 80 percent.
"We appreciate what you are doing here. It just goes to show that a small business can make a big difference," stated Montgomery County Mayor Carolyn Bowers.
When asked if the employees are also practicing recycling at home, owner Joy Kraeske responded, "It's made all of us more aware and I believe that it's the awareness that helps more than anything. Our guys are bringing in their newspapers and magazines and other recyclables from home. Our green committee started out with just three or four people and now they all want to be a part of it. Everyone has really come on board."
Clarksville-Montgomery County Green Certification Program Manager Michelle Newell asked Kraeske what she might say to a business thinking about CMC Green Certification. Kraeske responded, "When you get started you think it's going to be harder than what it really is. It's a lot of little things that start making a difference. You begin making those changes and they just become second nature at work and at home,"
"You have done a great job and we thank you for what you have accomplished. Not long before I got here I was actually sorting my own recycling bins, said City of Clarksville Mayor Kim McMillan. It will continue to take all of us doing our part."
For information on how your business can participate in the Green Certification Program, contact Michelle Newell at .