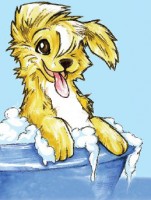 [1]Clarksville, TN – Business has been booming for Clean Paws and Lawn, a Pet Concierge in Clarksville, TN. The business is run by Gregory Reyes Jr and his fiancee, Lynette Spaulding. They take care of animals when their owners leave town. The duties include dog walking, litter scooping, and everything else that pet owners do for their pets.
Clean Paws and Lawn began in July 2009. Reyes left the Military and was having a hard time finding employment in Clarksville. Things were looking grim, but Reyes realized that so many people found themselves leaving work on their breaks to tend to their dogs.
Acknowledging that Clarksville desperately needed a pet-sitting business, Reyes decided to give it a try. Together with his fiancee, they started Clean Paws and Lawn. They get clients not just from Clarksville, but from the surrounding areas areas as well. Generally, they work the entire circle between Hopskinsville and Ashland City.
Tina Dybas is one of the couple's satisfied clients. "They do an excellent job. They provide a lot of services." Dybas explained that Reyes and Spaulding took great care of her German Shepherds when she was absent. They took the dogs to the park, on walks and engaged in other fun activities. "They do things on short notice," Dybas added. Once, she had to leave town on an emergency, and Clean Paws and Lawn were readily available. "Who else at the drop of a hat can pet-sit?" said Dybas. "They do it all. That's what I like."
Together, there is no animal that the couple cannot handle. "Ever since I was born, we always had animals," said Spaulding. "I grew up on the farm. We had cows, horses, goat, sheep, chickens. I've always loved animals, and I assisted in a vet's office for a while." Reyes grew up with many pets as well, including dogs, hamsters, gerbils, birds, (including a cockatoo) and others. "That's the way my family was. We just had a huge love of animals. That's how I grew up," he added. "We do all pets and livestock," said Spaulding. "If it's an animal, we do it. We also do basic bathing and pedicure."
The couple hears one particular question quite often – If they spend all year pet-sitting for others, when do they get to go on vacation for themselves? "Usually it's no vacation time whatsoever," said Reyes. "We basically let other people have their vacation so we don't get ours," Spaulding said with a laugh.
Reyes and Spaulding never kennel their dog clients. Instead, they own a doggy daycare. Unlike a dog care center, the dog camp has training and exercising activities for the pets, rather than confining them to a kennel for the majority of the day. However, some people will have to leave their dogs for a longer period of time, but those people are in luck. "Since we only charge for the 9-5 period, if someone drops off their dog at 7 A.M. and picks it up at 7 pm, then they'll get four hours free," said Reyes. The couple also takes care of dogs if their owners are in the military and deployed.
One of the new aspects of the service is a pet boutique. "We offer all natural pet treats and little outfits for the pets," said Spaulding.
There are several ways to contact Clean Paws and Lawn for service. "We have a contact form that clients can fill out on our website. We also have a referral service on a different website," said Spaulding. Calling the business number is another option for service. Reyes and Spaulding interview their potential clients to see if the owners and pets are compatible with them. They also require the pet's vet records, and insist that the animals (primarily dogs) get along with other animals. The price depends on the amount of animals a client brings in and the time frame of the services.
There are discount deals available for the pending dog camp. Current (or retired) Military civilians get 10% off. Public Officials (such as firefighters and police officers) and senior citizens also receive 10% off. However, these groups will only receive five percent off for the dog camp.
Business is very steady for the two, but things pick up dramatically during the holidays. "The major holidays are really busy," said Spaulding. "Thanksgiving, Fourth of July, etc. Christmas is the busiest."
In addition to taking care of pets, Clean Paws and Lawn also house sit when people are away. They open the blinds, rotate the lights, water the plants, bring the mail in, and do other duties to create the illusion that the original resident is still home.
To get in touch with Clean Paws and Lawn, call (931) 320-9254 or (931) 338-9950. Visit their website at http://www.cleanpawsandlawn.com [2].