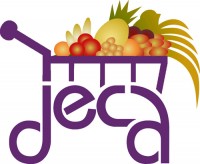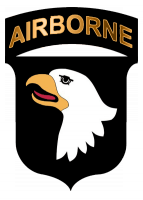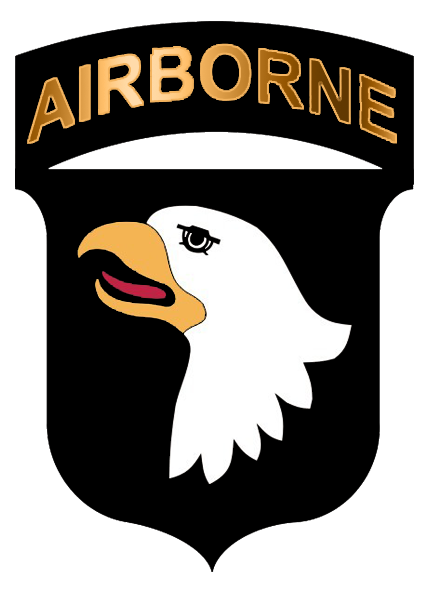 Fort Campbell, KY – Fort Campbell has officially opened their new state-of-the-art, DeCA commissary facility during a ribbon-cutting ceremony on June 13th, 2012. The groundbreaking ceremony was standing room only with a line of eager soldiers and their families stretched out almost around the block, all waiting for the chance to get a look inside the new facility.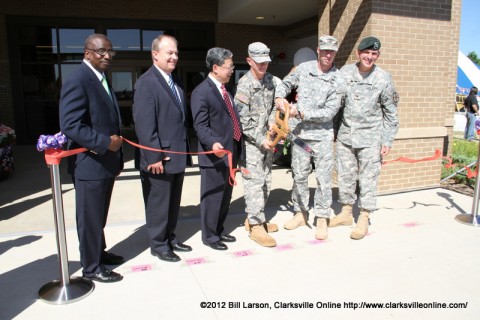 The ceremony was kicked off by three members of the hundred first Airborne Division parachute team jumping from a helicopter landing in the parking lot of the new facility with pinpoint accuracy. One of the soldiers team bore the American flag, and the crowd rendered honors as it descended to the ground. This was followed by an opening prayer, and short speeches from Fort Campbell's Garrison Commander Col. Perry Clark; and Joseph H.Jeu SES, the Director of the Defense Commissary Agency.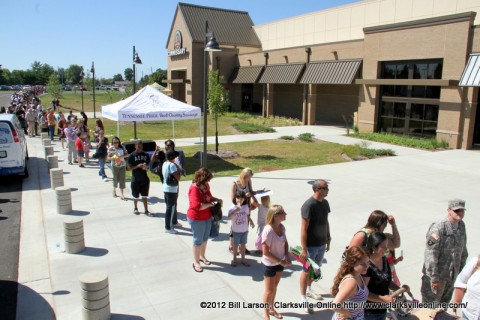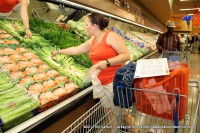 The new Fort Campbell Commissary is an expansive, modern, state-of-the-art facility designed to make every shopping trip a pleasant visit. This store features extensive produce, meat and grocery departments; an international delicatessen and bakery; sushi to go; rotisserie chicken; custom-made sandwiches; 20 regular and eight self-checkouts; a stock assortment of 18,000 items; and 536 parking spaces. The new Commissary features a sales area of 63,000 square feet, which is significantly larger than the previous facility it is replacing.
The old commissary was constructed in 1974 and only had a sales area of about 42,000 square feet with 19 regular and six self-checkouts and a stock assortment of 18,000 items.
The new, larger commissary is much better suited to support the 119,000 authorized shoppers (Active-Duty, Guard and Reserve, Retirees and Family Members) that make up the Fort Campbell military community, or about a 20 mile radius from the store.
The Fort Campbell Commissary consistently ranks in the top 10 commissaries in the nation in sales. The military commissary system is a significant benefit to the soldiers and government employees that it serves. They provide items at cost with a small 5% surcharge, which is used to pay for replacing and modernizing the existing Commissary facilities. There are approximately 252 commissaries system wide.
Construction on the new facility was handled by the Caddell Construction Company from Montgomery, Alabama. With the support of the design and construction division from Lackland Air Force Base, Texas. The initial groundbreaking ceremony was conducted on December 12, 2009. The new facility costs $1.2 million to design, and a total of about $22.5 million to fully build and equip.
The new Fort Campbell Commissary incorporates many sustainable and energy-saving design features and meets federal energy mandates including Presidential Executive Order 13423 and Guiding Principles, EPACT 2005, and EISA 2007. Sustainable and energy design features include: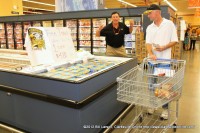 Low-maintenance, polished concrete floor in the sales area
An Energy Star-rated roofing system
High-efficiency heating, ventilation and air conditioning (HVAC) systems
Enhanced freezer and cooler insulation
Non-ozone-depleting refrigerants
Water-saving plumbing fixtures with automatic flush sensors
Automatic exterior lighting controls
Interior motion-sensor lighting controls
Energy-efficient interior lighting fixtures
Energy Star-rated equipment
Energy-conserving night curtains on open display cases
Refrigeration monitoring and control system (RMCS) for refrigeration, HVAC, lighting and utility meters
Native plants in landscaping to reduce the need for irrigation
Adhesives, sealants, paints, coatings made with compliant low-volatile organic compounds (VOC) to improve overall indoor air quality
The first Commissary was built on Camp Campbell in 1948. In 1960 it moved to a new location on Ohio street. It was moved to its current location in 1974, and the base has since outgrown that facility. Planners hope to covert the former Commissary facility into a Soldier Support Readiness Center basically a one-stop processing center for checking in and taking care of all the needed paperwork required for soldiers new to Fort Campbell and their families.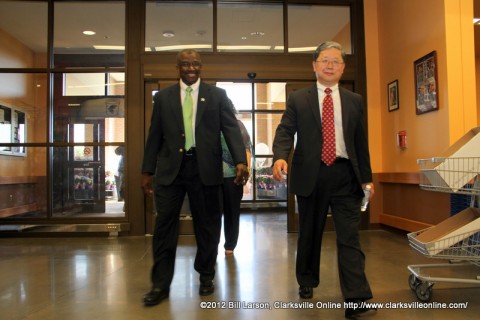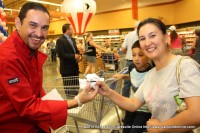 After the ribbon was cut the VIPs entered the facility, followed by an unbelievable line of soldiers and the families. The staff of the facility welcomed each one to the store with a smile, and a cupcake. The ladies also were given flowers. Lining the aisles of the store were four balloon-tying andclowns, booths featuring samples of some of the many products available for purchase, as well as mascots from the various companies represented including Mario the Olive; Tony the Tiger; a gigantic Purina dog wearing fatigues; Snuggle, the Snuggle Fabric Softener Mascot; the Morton Fishermen; the Barefoot Country Boy, the Tennessee Pride Sausage Mascot; Finn, the Goldfish from the Goldfish Crackers, Ernie the Keebler elf, Herbie Hot Pockets, French's mustard, and Count Chocula.
The first official purchase at the new Commissary was a soda bought by Col. Perry Clark.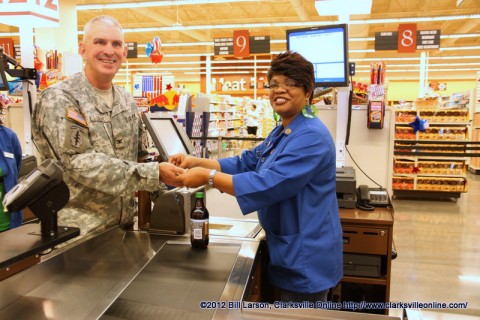 Photo Gallery
About the Defense Commissary Agency (DeCA)
The Defense Commissary Agency (DeCA, pronounced DECK-ah) operates a worldwide chain of commissaries providing groceries to military personnel, retirees and their families in a safe and secure shopping environment. Authorized patrons purchase items at cost plus a 5-percent surcharge, which covers the costs of building new commissaries and modernizing existing ones. Shoppers save an average of more than 30 percent on their purchases compared to commercial prices – savings amounting to thousands of dollars annually. For current savings figures for various groups – single member up to a family of seven – visit https://www.commissaries.com/shopping/savings.cfm. A core military family support element and a valued part of military pay and benefits, commissaries contribute to family readiness, enhance the quality of life for America's military and their families, and help recruit and retain the best and brightest men and women to serve their country.