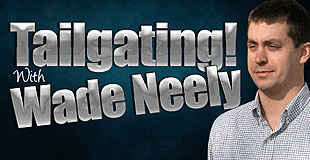 Clarksville, TN – Over the last several years, a strange thing has happened in the world of major college athletics.
With sky-high budgets and television revenues, major sports at high-end universities are reaching unprecedented heights in terms of exposure and marketability.
As a result, the world of recruiting and has also reached unparalleled success.
In fact, I'd be willing to wager that if you're reading this article, there is an extremely high probability that you have visited a recruiting website or watched a Youtube clip of a potential future college athlete.
Despite the extreme increase in information and interest regarding recruiting, however, the NCAA had continued to prop up several archaic rules regarded procedures for coaches contacting recruits.
On Friday, however, college athletics' major governing body took a significant step in the right direction – enabling college basketball coaches to make unlimited phone calls and send unlimited text messages to recruits who have finished their sophomore year of high school.
Quite frankly, I love this rule change.
In the digital age and the age of the smartphone, forcing coaches to keep distance from recruits via phone and social media seemed silly.
And after incidents like Ohio State's slew of secondary violations and Josh Pastner's legendary Twitter mistake, it may have even finally become apparent to the NCAA that blocking coaches from contacting recruits directly seems a bit foolish.
Imagine if you're the parent of a high-profile recruit.
Would you rather you and your child hear directly from the head coach via a direct phone call or social media message or from an assistant or other staff member?
And the cool thing about this rule? The competitive advantage it creates.
If a coach is pestering a kid too much, the recruit can simply ignore the phone call or delete the message.
On the other hand, a savvy coach can possibly earn the favor of a big-time athlete with a well-placed call or text.
Imagine if Mike Krzyzewski landed a star athlete because of a Facebook message. Awesome.
There is a major flaw to an otherwise solid decision from the NCAA, however.
The rule is for the 345 Division I men's college basketball coaches only.
Why limit it to men's basketball only? Why not include other classifications?
The NCAA has taken a step in the right direction with this rule, but it didn't take the full jump that it needed to.
That could change down the road, but for now it's a weird wrinkle to an otherwise great rule change.
So if you're the parent of a young, ambitious high school basketball player and their eyes light up when the phone rings or when they receive a text, you may know why.
You can follow Wade Neely on Twitter: @WadeNeely