Montgomery County, TN – The latest industry to become Green Certified through the Clarksville-Montgomery County Green Certification Program is Gateway Medical Center, located at 651 Dunlop Lane. A Green Ribbon Cutting Ceremony was held on Thursday, June 14th to celebrate their successful initiatives and completion of the program.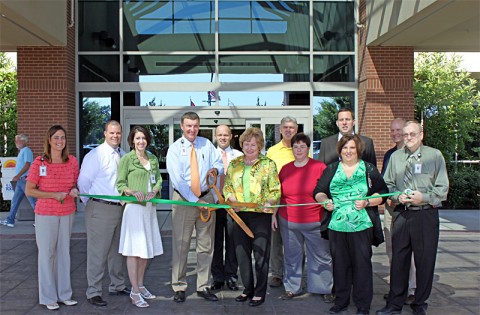 A few of their initiatives include energy conservation efforts such as retrofitting to more efficient lighting, using set-points on thermostats and encouraging employees to turn out the lights when leaving a room. They have also made great strides in water conservation and recycling and repurposing many of their by-products. Gateway Medical Center even provided reusable drinking tumblers to all employees as an effort to eliminate paper and Styrofoam cups.
Focusing on energy savings and having a minimal impact on the environment were a part of the Gateway Medical Center's goals before the new facility was even built in 2008. The design for natural lighting throughout the facility lent itself to a brighter environment for patients and employees and less lighting needs.
Montgomery County Mayor Carolyn Bowers congratulated Gateway employees at the ceremony. "We are so pleased that Gateway Medical Center has completed their Green Certification and hope that others in the healthcare community will follow their example. They have done a great job spreading their recycling efforts to their employees with commendable goals to bring more recycling opportunities to their patrons. These are the types of initiatives that help to spread the greening commitment throughout our community!"
Benita Martin, marketing and public relations director for the medical center said, "I was just thinking today how the conversations went back many, many months, and now we are here. We have come a long way, but there are still many opportunities for us to do more, and we are excited to be moving forward in our environmental efforts."
"I know Mayor McMillan is proud of your accomplishments as she congratulated members of the staff," stated Jennifer Rawls, director of communications for the City of Clarksville. Rawls was there to represent Clarksville Mayor Kim McMillan who was out of town on City business.
CEO Tim Puthoff stated, "I am very proud that we have achieved our Green Certification. I think any responsible corporate citizen needs to try to have a positive impact on the environment. That not only goes for our hospital but for our employees as well. Hopefully our Green Certification will inspire our employees to continue their personal recycling and environmental efforts as well."
Gateway Medical Center is Clarksville's own premier hospital providing a full range of quality, convenient, cost effective and compassionate health care services. To read more about Gateway Medical Center, visit www.todaysgateway.com .
For information on how your business could participate in the Green Certification Program, contact Michelle Newell at