Clarksville, TN – On Saturday Hilldale Baptist Church played host to third annual Unity Day celebration. The goal of Unity Day is to build a stronger community by recognizing and joining together religious, governmental and business leaders in fellowship.
Unity Day was founded by Treva Gordon, the owner and publisher of the Convenient Shopper Magazine. "I was watching an awards show on television and I was so inspired by the way they honored the pop star's and the rap artists. It was wonderful; they had the gift bags, bling bling, the limos, and everything that went with it. That was awesome!" she said to herself.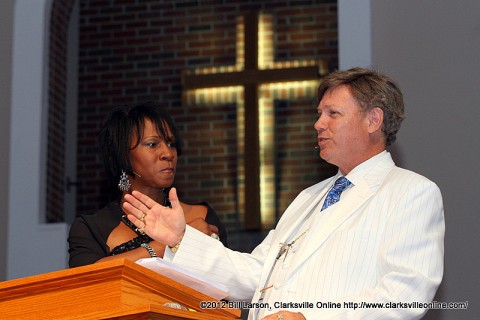 Then the idea came to her, "What about the hard-working people right here in our community, firefighters, the teachers, the pastors; when is the red carpet going to be rolled out for them?" she asked herself. "They labor so many hours during the week." She then pointed to Bishop Lockett who was standing next to her at the interview, and said "I know that this gentleman here, he works endlessly for the community as do so many other people who are doing God's work, and they go unrecognized and I feel that we as a community need to do better in showing our support and our appreciation."
And that is exactly what she is striving to do with Unity Day. "The first year unity Day was held was in 2010 at Faith Outreach Church; then in 2011 unity Day was hosted by Pastor Louie Montoya at the First Assembly Of God; then this year Dr. Larry Robertson of Hilldale Baptist Church really extended his churches arms to us."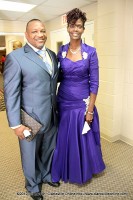 Gordon understands how feels to be recognized for the things that you're doing, "I can tell you how I felt. It feels really great, I get so much gratitude that I am almost overwhelmed because it's long overdue. You give people the flowers while the living. Don't wait till they are dead to say "Hey, I appreciate you." So if I can roll the red carpet out for you while you're alive we are going to celebrate that and that's what it's all about just honoring our great leaders while they are still here with us."
Bishop Calvin Lockett of Christ the Healer Church (1295 Paradise Hill Road), was one of the honorees that first year. "I was an honoree in 2010," he said. "And when Treva came to me and proposed the idea it was just such an awesome concept just to recognize people who sometimes go unrecognized. I think the idea of pulling together the community through the nonprofits and the other agencies is just amazing. There is no other day that I know of in the city that does what Unity Day does."
Each year three Honorary Award Ambassadors are selected for recognition at unity day, along with Eight pastors, and eight nonprofit organizations. "The community has been really stepping up to help out," Gordon said, "There are 20 to 25, sponsors because they believe in our community. If you believe in your community. You'll support your community. And that's the least that we can do"
Lockett recognized Mrs. Gordon's efforts on behalf of the community, "Let me just say from my heart that Treva is just one of the best kept secrets in America it's amazing watching her use her God-given abilities to get people of such diverse backgrounds to come together and work together. She is a gift from God and was so proud to have her in our community were blessed."
Clarksville is home to a diverse multi-ethnic community, and their response to Unity Day has been simply amazing, "we have Koreans, Panamanians, Africans, and all types of ethnicities together under one roof, "It's just such a sight to see." said Gordon.
She closed the interview with, "I would just like to take Clarksville Online and Discover Clarksville for being here tonight. It means a lot to us!" We were glad to be there.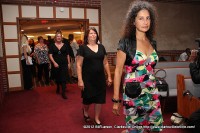 Unity Day Ambassador Choice Award presentations were made to Nia Allen, Montgomery County Mayor Carolyn Bowers, and the Fort Campbell Historical Foundation which is in the process of building the Wings of Liberty Museum. As part of the ceremony a check was being presented to the Fort Campbell Historical Foundation by Unity Day for $250.00.
The 2012. Pastoral Honorees include Pastor Charles F. "Skip" Armistead, the senior pastor at the Hilldale United Methodist Church; Pastor Katherine Walker, the senior pastor At the New Jerusalem 5 Fold Ministries; Rev. Delbert R. Brown, the senior pastor at Concorde Missionary Baptist Church; Apostle Garfield Curlin, the senior pastor at All Nations House of Prayer; Dr. Larry D. Robertson, the senior pastor of Hilldale Baptist Church; Pastor Soung Kyu Bak, the senior pastor at the United Korean Presbyterian Church; Rev. Jimmy Terry, the senior pastor at Tabernacle Missionary Baptist Church; Elder Robert L. Tramil, the senior pastor of the House of Praise COGIC.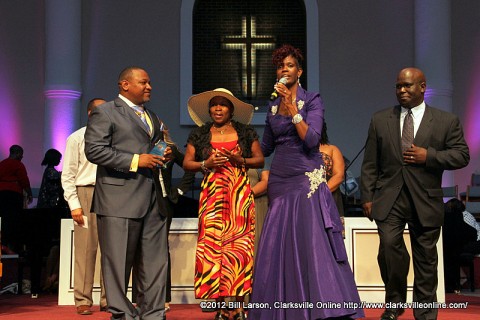 The 2012 Nonprofit Honorees include Manna Café Ministries represented by Director Kenny York; The Matthew Walker Comprehensive Health Clinic; Project F.U.E.L. represented by Founder and President Denise Skidmore; the Old Firehouse Day Shelter & Resource Center represented by Director Robert Davis; Fort Campbell's Fisher House represented by Director Wendy Carlston; the D.A.R.E. Program represented by Officer Joe Newman, who serves as its director; Habitat for Humanity represented by Executive Director Shelby Logsdon; People Helping People Ministry represented by Pastor and Mrs. Jerkins who serve as co-directors; Clarksville Montgomery County Adult Literacy Council represented by Executive Director Velma Jo Williams; the Young Daughters of Destiny represented by Minister Rita Ewing, who serves as director; the Nia Association represented by Director Carol Stevens; the Lamb of God Ministries represented by Director Vanessa Chambers; The Hope Pregnancy Center represented by Director Martha Evans; Safe Harbor Mission Ministries represented by Pastor Gary Keeney, formally known as the Lighthouse Mission; the LEAP Organization represented by founder Richard "Reason" Garrett.
Unity Day is hosted by Kevin C. Kennedy and Yolanda Stewart.on
This year Unity Day was sponsored by 101.9 FM, 102.1 FM, Adult Literacy Council, Ashley Kettle, Bella Medical Spa, Braxton Photography, Carolyn Long – Beauti-Control, CDE Lightband, Charter Channel 10, Chick-fil-A, China King, Christ Bond Graphics, Christ the Healer Church, Churches Chicken, Clarksville Colonics, Clarksville International Church, Clarksville Online, Convenient Shopper Magazine, Cumberland Bank & Trust, Daymar Institute, Deliverance Outreach Temple, Discover Clarksville, Diva in the Middle, Essence of Elegance INJ, Five Hour Energy, F&M Bank, Foston Funeral Home, JC productions, Jones Photographic Services, J. Whaley, Kennedy Law Firm, Laurie Delk, Leigh Davis, Lovely Morgan, Made 2 Order, Mel' Rose BBQ and Grill, Mercado Juarez, New Way Community Church, Nia Association, Nu Purpose, Nuttin But Wings, Planters Bank, Promote U, Queen City College, Rosa Crawley, Sam's Club, Shoney's (North 2nd Street), Standing Ovations, Sterling Signs, Tamika Christian, The City of Clarksville, Wal-mart, Wendy's, White Law Group, and Winn Materials.
Special Thanks were given to Sally Penny, Jason Davis, Pastor Aaron, Alfhonse Prather, Alea White, Leigh Davis, Rosa Crawley, Cathy Johnson, the Unity Day Band, Pastor Lyndell Littleton, Hilldale Baptist Church staff, Grand Avenue, Elder Velma Jo Williams, Sharon Davis, Tony Dillard (singer), Sonimar, Renee Craig, Kimberly Washington, Rev. Noble, Chaplain Walker, Olivia family, Bishop Anthony Alfred, Majik Decosta, Ambassador Dr. Bobby Jones, State Representative Joe Pitts, State Senator Tim Barnes, Montgomery County Commissioner Tommy Vallejos, City Councilman Nick Stewart, City Councilwoman Kaye Jones, Clarksville Mayor Kim McMillan, and the City of Clarksville, TN.
Photo Gallery