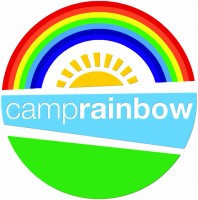 Started as the dream of Mary Woodall and Diane Miner, Camp Rainbow is a week-long haven for kids with serious illnesses. With Premier Medical Group of Clarksville providing doctors, nurses and one-on-one staff members, Camp Rainbow welcomes 40 kids on Monday and gives them the chance to have fun all day every day.
Kids arrive at Brandon Springs in Land Between the Lakes and then choose from activities like swimming, fishing, making crafts, canoeing, or riding on helicopters from Fort Campbell. They have three great meals a day plus any treats (like soft ice cream, chips, water, juices, jerky, candies, etc.) they want any time as long as it's in their dietary plan.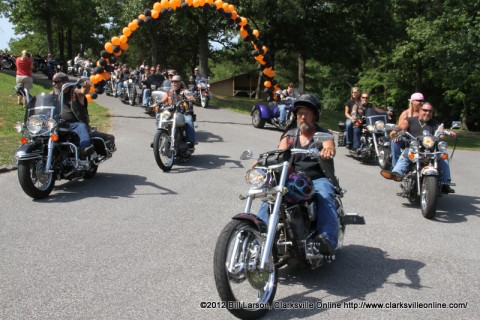 Eight dorms feature bunk beds where the special child sleeps on the bottom and the counselor sleeps on the top. Some kids with wheelchairs or extra special needs have two counselors. They are supported 24 hours a day with having fun as the top priority. Children can attend when they are five and have had a year of school and the cutoff age is 12 because teenagers begin to have other interests.
Camp Rainbow has its own website, http://clarksvillecamprainbow.org/, where information for campers, parents and counselors can be found. Parents can criteria for attending, application forms, medical forms and camping packing lists are easily obtained.
The camp is sponsored by Bikers Who Care, Clarksville Dream Factory, Dream Factory Headquarters International, U Jumpin' Folks, The Beaver, and Premier Medical plus anyone who wants to donate! A radiothon is held each year and you can call in your pledge, or you can donate with PayPal or your credit card on line at their websites.
Every year on Thursday the Bikers Who Care give all the kids the highlight of the week. These wonderful people have donated $55,000 a year to the camp for the past several years. They ride in on their motorcycles and the eyes of the campers light up with excitement. Each camper wears a white shirt on which the bikers autograph. This year 80 cycles roared in with most bikes carrying two riders.
As soon as the cycles were parked, kids slowly walked over to reach out and touch—and hopefully have a ride before the day was over! Numerous blow-up jump-ons were provided for the kids to have fun on during the festivities. The bikers were entertained with skits performed by the campers, followed by dinner, fireworks and dancing.
It was a beautiful sight to see!
The next day the campers would have a scavenger hunt and then it would be time to pack to go home.
Staff member Dillon Jennings sat down to talk with me for a few minutes. He said he's been at the camp every summer since he was in high school. One summer his dad and he brought some of their horses to Camp Rainbow to let the kids ride. Dillon's wrestling coach was there that summer and asked Dillon if he wouldn't like to stay and help. "It was Tuesday morning and I stayed with what clothes I had on my back," he remembered. "First, I asked my dad if he could cover cutting the lawns I mowed that summer and he said he would. It is really fulfilling to be here because it is all so positive and I've been here every year since then. Everyone is so eager to help and the positive energy is unbelievable."
Now an environmental geologist with a wife and an eight-and-a-half month son, Dillon said, "You don't see these kids as having disabilities. We're all just people here with kindness and caring for each other. There are no rules. Whatever the kid wants, that's what we try to do. If he wants to eat ice cream every meal and it's not against his diet, he can do it.
"When some of the kids come here for the first time, they cry a little when their parents leave, but by Saturday, when they go home, they're crying because they don't want to leave!"
Camp Rainbow is a beautiful place filled with people who want to make a difference in the lives of children.
"If you're having a bad day, all you have to do is think of what these kids face every day with their great attitudes, and you can't feel sorry for yourself any more," Dillon concluded.
By the way, the Bikers Who Care are selling fireworks at their clubhouse on Boot Hill to help support their Children's Charities, go by and take part in what is such a worthy cause!
Photo Gallery