Clarksville, TN – On June 24th, around 2:00pm, two men approached a 51 year old man sitting in a wheelchair on the porch of his Rainbow Street residence and told him they were selling sports magazines. He let the two men into his house.
Shortly after letting the men in, one of them pulled out a handgun and pointed it at the victim's head. In the meantime, the other man ransacked the residence, took the victim's wallet, credit cards, cash, oxycodone and diabetes medicine. The two suspects ran out of the side door of the residence and left in an older model vehicle.
Approximately two hours later, Clarksville Patrol Officers found a vehicle matching the suspect vehicle at an apartment complex on Old Russellville Pike. After locating the vehicle and following some additional leads, Detectives developed Maurice Deloatch as one of the suspects in the robbery.
Through the use of a photo lineup, the victim identified Maurice Antonio Deloatch as one of the men that robbed him.
On June 24th, 2012, around 9:00pm, Maurice Antonio Deloatch was booked into Montgomery County Jail.
Deloatch has a lengthy criminal history and is currently on 2 years probation for Burglaries and Thefts.
There is still another suspect at large. He is described as a black male, 18 or 19 years old, clean shaven, and short hair.
The lead investigator is Detective Justin Bailey. Anyone with information can call the TIPSLINE, 931.645.8477.
Maurice Deloatch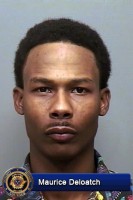 Name: Maurice Antonio Deloatch (B/M)
DOB: 10/3/87
Given Address: 2793 Cascade Drive, Clarksville, TN
Arresting Officer: Justin Bailey
Charged With: Aggravated Robbery
Booked Into: Montgomery County Jail
Bond: $10,000.