Montgomery County, TN – One of the latest businesses to become Green Certified through the Clarksville-Montgomery County Green Certification Program is Page & Tuttle, Rivers End South, located at 975 International Boulevard.
A Green Ribbon Cutting Ceremony was held on Wednesday, June 20th to celebrate their successful initiatives and completion of the program.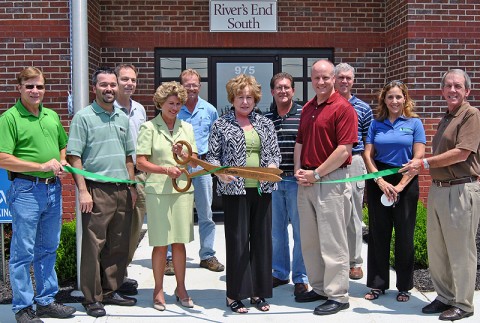 Examples of their successes include energy reduction, increased recycling and finding a source for their largest waste product.
When asked by Montgomery County Mayor Carolyn Bowers what changes they've made. Operations Manager Dave Robertson responded, "The biggest accomplishment is the recycling of our polybags. We now keep our largest waste stream out of the landfill."
General Manager John Hooper added, "We've really reduced our consumption of power as well, cutting it by almost 20%. For a small to mid-size company two to three thousand dollars a month in savings is significant."
Mayor Bowers and Clarksville Mayor Kim McMillan were on hand for the ceremony. "We congratulate you and thank you for what you've done and it's good to hear that your employees are taking these practices home to make an even bigger impact," commented Mayor Bowers.
Mayor McMillan also praised them for the work that they have done.
Page & Tuttle, located in the Clarksville-Montgomery County Corporate Business Park, has been a leader in the Golf and Promotional Products apparel markets for many years. With more than 50 employees, Page & Tuttle offers a complete, "one-stop" service convenience with expert embroidery and same-day distribution services. To find out more about Page & Tuttle, Revers End South visit www.pageandtuttle.com .
For information on how your business could participate in the Green Certification Program, contact Michelle Newell at