Clarksville, TN – Whenever Beachaven Vineyard and Winery holds one of their Jazz on the Lawn concerts you know you will have a good time. That was the case with Saturday's Concert Featuring The Jim Gibson.  People were clearly ready to enjoy the weekend by spending some quality time with family and friends.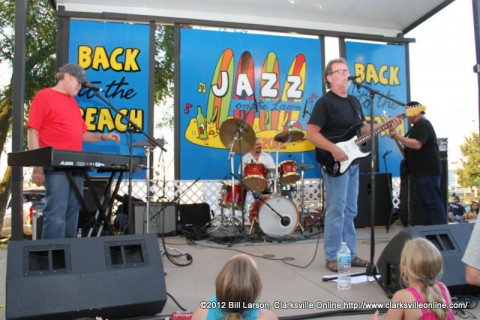 When I arrived for the concert the streets and surrounding parking lots were already full with all the cars of all the people who had arrived before me. After parking I enjoyed wandered around the winery visiting with such an eclectic group of people who all seem to be having a wonderful time.
Looking back at gallery that you will be able to at the end of this article, it is easy to see just how much of a part of the community that the Beachaven Jazz on the Lawn concerts have become. The Beachaven Vineyard and Winery opened their arms to the community some 26 years ago, and since then the community has embrace them back.
The next Jazz on the Lawn Concert at Beachaven Vineyard and Winery will be held on July 7th, and will feature Randy Moore and the Fabulous Suedes out of Nashville, Tennessee. the band last performed at Jazz on the Lawn in August of 2011, and performs a wide variety of music including country rock, and soul from the 1970s up to today.
Randy Moore & The Fabulous Suedes has opened for Bruce Springsteen, Bon Jovi, Hank Jr., Amy Grant and others. They specialize in playing concerts, conventions, casinos, wedding, private parties, festivals & fairs. The Suedes are quite comfortable delivering maximum energy and command any stage they are on. Audience appeal and a rangy song list make the fabulous suedes a true "crowd pleaser". Mixing decades of music with their own original style, Randy Moore and the Suedes are Bob Mummert on drums who's a-list playing has landed on recordings by Roy Orbison, Dwight Yokam and Reba; Joseph Anderson who commands the keys cut his teeth down on Beale Street in Memphis before touring with Albert King and the Bill Black Combo; And Eddie Bedford on the bass who's been featured on Music City Tonight with and also toured with Alabama.
Currently Randy Moore & the Fabulous Suedes are recording their new album with legendary record producer Norbert Putnam (Jimmy Buffett, Dan Fogelberg, Joan Baez, John Hiatt, etc). The Suedes are playing somewhere tonight in America and somebody's having a good time.
We look forward to seeing you there!
Photo Gallery