Clarksville, TN – Willie Charles Cole was placed on three years probation, May 18th, 2012 for Theft of a Motor Vehicle and Vehicle Burglary. He was arrested again June 27th after he was caught driving a stolen 97 Isuzu Rodeo which had been stolen in Clarksville on June 25th.
Clarksville Police were called to the area of Stacker Street about a suspicious vehicle possibly dumping trash on the road. Officer Matt Ferrell spotted the vehicle on Short Stacker Street and then saw the vehicle run through a Stop sign.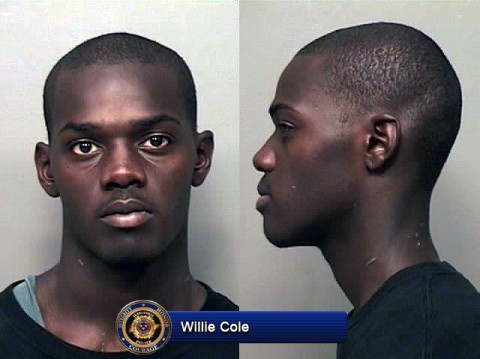 He initiated a traffic stop, at which time, all three of the occupants jumped out of the vehicle and fled on foot, while the vehicle was still in motion. The driver of the vehicle, Willie Cole, was  caught by Officer William Gilboy.
Officer Ferrell chased the other two that ran from the vehicle. As he came around the corner of a house, one of the men had turned and pointed a handgun at Officer Ferrell. Officer Ferrell dove behind a car for protection and the men were able to get away.
Officers combed the area but were unable to find the two that fled, but they did find a discarded handgun, which after close inspection, was determined to be a BB gun.
The lead investigator is Detective Nick Newman, 931.645.8477.
For more on the story, see: Man finds his Own Stolen Property on Craigslist and the Thief goes to Jail
Willie Cole
Name: Willie Charles Cole (B/M)
DOB: 10/8/92
Given address: 1390 Ambleside Drive, Clarksville, TN
Arresting Officer: Nicholas Newman
Charged With: Theft of a Motor Vehicle and Evading Arrest
Booked Into: Montgomery County Jail
Bond: $26,000.