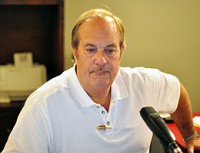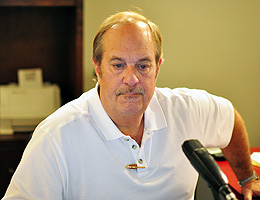 Clarksville, TN – One thing is certain in Clarksville.  Being mayor is a thankless job.  You're damned if you do, damned if you don't.  It seems that no matter who the mayor is, there's always this "climate" of discontent.   I guess it comes with the job.
I remember a visit to my morning show several years ago when my co-host and I first urged Kim McMillan to run for mayor.  We were just getting a good dose of Piper/Trotter politics at the time, and Kim was climbing the political ladder in Nashville, and we said, "Kim, you should run for mayor."
She wasn't interested.
Now as mayor of Clarksville, Kim McMillan is up to her eyeballs in Clarksville politics, and you can tell that it clearly frustrates her.
If you watch the behavior of some councilmen during city council meetings, it's very embarrassing.
If you watch mayor McMillan's reaction to some of those councilmen, she doesn't hide her frustration.
I've known and interviewed Kim McMillan as often as anyone during her career, and I don't know if it's because of her health, or the nature of her critics, but she doesn't have patience for it.
I wish she was more pro-active with the "other six" but I don't think I'll hold my breath on that one, because it goes both ways and neither side is willing to reach across the aisle.
So we're stuck once again with typical Clarksville politics.
Just last week mayor McMillan and I visited privately after she appeared on my radio show, Clarksville in Review, and we talked at length about our relationship, which has changed drastically for some reason, and I was very frank about what opportunities she was missing.  It was a good meeting, but we in the media want it all, and have to adjust to what we can get.
So it goes.
Kim said she was moving forward with what she thought was best for Clarksville, and not getting "wrapped up" in the criticism and staying "focused" on the job at hand.
A prime example of that criticism was this weeks decision by mayor McMillan to ban fireworks in the city due to the hot and dry conditions. The easiest decision she's had to make so far. No brainer right?
Not according to councilman Dave Allen.  He complained at this weeks executive session that he had a flood of phone calls from residents who were "angry" they couldn't shoot their fireworks.
Who doesn't understand the need for a fireworks ban for god's sake?
Mr Allen should have told those residents to hang up and never call him again if they were that "out of touch."
Clearly, Mr Allen was just wanting to throw a "jab" at the mayor for her decision.  He's one of her biggest critics.
Debate and disagreement is good, but we are famous for holding a grudge.  Whew!
You should watch last month's council meeting and watch the exchange between councilman Allen and Ben Griffin, the city's finance director.
Not pretty.
And while you're at it,  go watch last December's council meeting and watch councilman Geno Grubbs go at it with councilman Allen.
Every mayor has their way of doing things, and every mayor takes a lot of heat for it.  We're just never happy with city hall and that's bothersome.  I worry that we're never happy no matter what.  Nobody seems to do anything right.
Clearly mayor McMillan has her own style of leadership.  Let's see how she does, then when she asks us to give her four more years, and she will, we'll decide then.