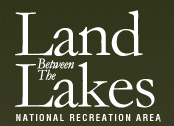 Golden Pond, KY – Due to heightened fire danger with hot, dry weather forecast for the foreseeable future and the recent burn ban for Trigg County, Kentucky, Land Between The Lakes (LBL) National Recreation Area's Area Supervisor just signed a temporary closure order prohibiting open fires anywhere on the Forest except in metal campfire rings in developed campgrounds only, effective immediately.
This order will remain in effect until significant rainfall occurs or some other event that decreases fire danger. Visitors may still use contained camp stoves at their campsites. Visitors are encouraged to check the Alerts & Notices page on LBL's official website at
www.lbl.org
.  Possession or use of fireworks is prohibited.
Come Outside and Play at Land Between The Lakes National Recreation Area. Managed by the Forest Service, U.S. Department of Agriculture, Land Between The Lakes provides outdoor recreation, lake access, and environmental education for the public to enjoy.
Follow Land Between The Lakes on www.Twitter.com/LBLScreechOwl. Additional LBL information can be found on the website or by calling 1.800.LBL.7077 or 270.924.2000.