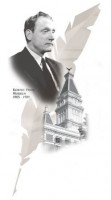 Clarksville, TN – Keven McQueen is not your average author with an elevated impression of himself. Here's what he has to say about his life as he introduces himself on his web page, "I have degrees in English from Berea College and Eastern Kentucky University. I have been an instructor of composition and literature in the Department of English and Theatre at EKU since 1989. English is my wife but history is my mistress, especially politically incorrect history which presents uncomfortable challenges to what "everyone knows" or assumes to be true."
He goes on to add, "For a while I worked as a night watchman at a funeral home, a job that dovetailed well with my sense of humor….I am the author of five books: a biography of a nineteenth-century Kentucky emancipationist, Cassius M. Clay, Freedom's Champion; two books featuring biographies of bizarre and eccentric figures from Kentucky history, Offbeat Kentuckians and More Offbeat Kentuckians; a hybrid of the Kentucky history and true crime genres, Murder in Old Kentucky, and the brand-new Kentucky Book of the Dead, which concerns ghosts, giant skeletons, premature burial, monsters and other strangeness. I have another Kentucky-based true crime book on the way, Cruelly Murdered."
"Also, I fall down a lot," he admits in conclusion. I also have no life so I have a lot of spare time."
(On McQueen's web site, he explains that he probably has Asperger's Syndrome. "I have a hard time reading other people's emotions based on non-verbal cues, such as facial expressions. It also means I usually don't notice if women flirt in a subtle way with me. I tend to be socially inept. I am not an unsociable misanthrope, but have a large number of acquaintances and few very close friends. It goes without saying that I tend to avoid the dating scene. I usually have great difficulty making small talk with strangers—or even friends, especially if I haven't seen them in a while. One of the dead giveaways that I am slightly autistic is my problem maintaining eye contact with people when conversing.
"I loathe crowded places; therefore I tend to avoid social events at all costs…. I rarely seek people out, but if approached I am friendly though shy. I tend to like routines (such as the obsessive, almost surreal amounts of research I do for my books, not to mention the long lonely hours required to do the actual writing, all of which constitutes a "fun time" to me) and can become highly resentful if the routines get disrupted for any reason," he explains. "I have a tendency toward obsessive-compulsiveness (very mild in my case, thank God).
In spite of these tendencies, Keven has a great sense of humor; listening to him speak is an exercise in laughter. Underneath his self-deprecation is a keen mind that has some excellent ideas on how to break into publishing.
Keven McQueen loves to read old newspapers. His favorite is the Louisville Courier-Journal, from which he has gleaned thousands of bits of information he now has archived for future reference.
"I started out looking at microfilm in the library and went through every paper looking for interesting things," he said. "When I'd find a murder or something I thought I might need in the future, I'd write down the date and page number. It's the next best thing to a time machine. I have no life so I have a lot of free time."
"Every day after the murder is discovered, the next paper will have more details, so all I have to do is write it up in an entertaining and amusing way," McQueen reported. "I estimate that I have about enough information for around 500 books."
"For instance, in the early days of automobiles, there was no gas gauge in them, so each car had its own stick to see how much gas was left in it," he said. "That bit of information is something I'll use some day in a book."
"By now, you probably think that I'm insane and will start sneaking out of the room," McQueen said. "I've had 12 books published but the one on Cassius Clay is out of print. I'm envious of people who can write fiction and poetry but I'm just not one of them. I actually believe it's easier to break into print in nonfiction."
McQueen admittedly spends most of his free time in looking through every copy of the Louisville Courier-Journal. He makes notes on giant human skeletons, trivia of all kinds, and if he can't find what he wants to know about a subject in a large city newspaper, he'll check out one in the nearest small town.
"Death certificates are a great source of information because they usually tell you when someone was born, who their parents were, and where they are buried," he explained. "Reading local histories can also give you great information. Looking at genealogy sites on the Internet is also helpful and you can find pictures of cemeteries on findagrave.com also. The New York Times Index is now on line and it's a great resource."
Knowing that old wills are great sources for stories, McQueen once found the will of a doctor who left his greedy relatives actual parts of his body. They had suddenly shown up and "sucked up" when they learned he had tuberculosis and would die soon. He left one his hand, another his head, etc., and named a reason for each bequeath in his will.
"If you find a lot of brief stories, put them together in an interesting way," he advised. "True crime stories tend to be longer because after the capture, you have the trial and possible contrasting stories in different papers. If you don't know something for sure, you can tell your readers, 'This is a guess based on a fact' or 'This is what they could have said.' In Cold Blood by Truman Capote was the first true crime novel that turned into a legitimate genre, and Creative Nonfiction is the oldest literary journal in the United States."
If you use something from an old newspaper—even though if written before 1940, they are all in public domain—write a letter asking for permission to use the information and give credit in your book to the source. It's just professional and good manners to do so. This way you won't get sued.
"The secret to writing good nonfiction is the write a first draft with only strictly boring facts and then spice it up," McQueen states. "It takes me one year to write a book and one year to publish. I work only with small publishers who send me a contract that says I have to finish by a certain date."
He says, "I have an identical twin brother, Kyle, but no one ever believes me when I tell them that." Examples of "Kyle's" cartoons are on Keven's web site and also the names of other books that Kyle has illustrated are listed there.
You can decide for yourself if Keven is putting you on or not!