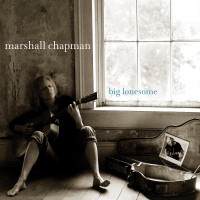 Marshall Chapman and Tim Krekel were writing, singing and music-making buddies for many years, so when Tim was diagnosed with cancer and consequently died only three months later, it was a huge hurting in the heart of Marshall Chapman. Although she had begun to devote her time to writing books and had vowed never to make another CD, the songs began to blossom without warning and Big Lonesome, her latest CD, was born.
Nine of the songs on Big Lonesome were written by Marshall, two of them with Tim. Cindy Walker wrote "Going Away Party," the third song in the line-up and, of course, Hank Williams wrote "I'm So Lonesome I Could Cry," the ultimate sad song on this album.
Marshall's voice is sultry, honest, earthy and engaging. When you hear her sing, you know she has lived these emotions and they're never artificial. Even with the blues, Marshall Chapman pulls you into her world, spins you around, and sends you out better than you were before—because she's just that kind of person.
When you're in the room with her, Marshall can make you laugh through your tears no matter the situation. In her book, Good-bye, Little Rock and Roller, she tells about the death of her only brother, Jamie, and although you are crying your eyes out, she describes the hilarious scene of the four undertakers "huffing and puffing," trying to get his six feet, seven inches tall body down the stairs and around the landing to the first floor of the house. Marshall wrote, "They were having a hard time negotiating the turn. They couldn't decide whether to stand Jamie up or pass him over the rail. While the debate was going on, I suddenly felt possessed again by Jamie's 'devilment.' Because, in that moment, I heard myself say to the four struggling men below, "Ah, it's okay if you drop the body. But if you knock those sconces off the wall, there's gonna be hell to pay.' With that Todd Jones and I had to rest our foreheads on the railing as we shook from laughter." She then reports that the men from the funeral home were stricken with the thought that it was time to get out of that house because it was obvious that the residents were crazy!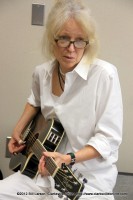 On Big Lonesome, you can expect every single song to be great. My personal favorites are "Down to Mexico" and "Mississippi Man in Mexico." Marshall told her audience at the Clarksville Writers' Conference this June that after Tim died, the promoter for their tour in Mexico had called to tell her he understood if she didn't feel like going ahead with the plans. She replied, "No. I think I need to go" and she did. She described a terrific dinner outdoors on a plantation with the moon shining over the feast. You can envision that experience in "Mississippi Man" and savor the flavor of the feeling that evoked this song.
The album ends with Tim and Marshall singing "I Love Everybody." The upbeat mood of this song as Marshall yells out to the crowd, "You sound like angels," takes you right out of the sadness and loss of "Tim Revisited," "Going Away Party," and "I Can't Stop Thinking About You." Of course, you can't fail to enjoy the humor of "Sick of Myself" as Tim and Marshall sing about wishing each was the other.
And then there's "Riding with Willie." Marshall said when she was working on her latest book, They Came to Nashville, she decided one chapter had to be about the one and only Willie Nelson, whom Marshall had known long before the world at large discovered him. She called Willie and told him she needed to interview him. Willie said he was on tour and she could just hop a ride on the bus. "Being somewhat near to agoraphobia, I declined," she reports. Then she called her husband, Chris Fletcher, who told her to get back on that phone and get on that bus because it was a once in a lifetime opportunity. So she did. "You didn't have to smoke to get high when you rode with Willie," she insists and out came "Riding with Willie" where, like Marshall, is just where you want to be.