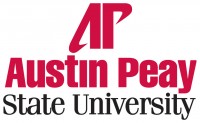 Clarksville, TN – Many employees at Austin Peay State University were recognized Wednesday, July 11th for their years of service to the University and/or educational achievements made in the last year.
Charles Wall, director of the Office of Information Technology, was honored for his 40 years of service to APSU.
Those receiving 30-year pins were Ricky Denton, Sandra Garrett, Marilyn Griffey, Anna Murray and Deborah Suiter.
Employees honored for their 25 years of service were Sue Butler, Angela Judish, Leslie Nelson and Susan Wallace.
Receiving 20-year pins were Barbara Blackston, Jennifer Ellis, Theresa Evertt, Vanessya Fountain, Manya Hemmings, Charles Jenkins, Frank Joe Mills, Bill Persinger, Donna Price and Carol Spiller.
Those recognized for 15 years of service were David Frazier, Terrie Huth, Tara Pfeifler, Gail Roach and Telaina Wrigley.
Staff members earning 10-year pins were Glenda Bernard, Lori Graber, Kelley Guth, Roy Hill, Charlie Hodge, Jacob Hoehn, Veronica Jackson, Feleesha Johnson, William Ray Johnson and Darlena Longstreet.
Five-year pins were awarded to Jonathan Bates, Gabrielle Blackburn, Sherryl Byrd, Jeremy Carpenter, Lucinda Carrigan, Douglas Catellier, Rick Christophel, David Cordell, Shirley Gordon, Carrie Harris, Timothy Hurst, Daniel Miller, Megan Mitchell, Kimberley Morrow, William Neblett, Gracie Ogburn, Ronald Palmer, Kathrine Pendleton, Corina Ravenscraft, Tina Rousselot, Lance Sherley, Austin Siders, Linda Stolz, Lynette Taylor, Jose Trevino, Dawn Vanderlee and Edward Wills.
Employees who have reached educational achievements in 2011-12 were Amy Barrett, Susana Bey, Theresa Beyke, Valerie Brown, Johnathan Button, Marissa Chandler, Connie Choate, Sherry Comperry, Amber D'Agostino, April Holland, Veronica Jackson, Cynthia Jarrell, Feleesha Johnson, Carol Keller, Deanna Kendrick, Jasmin Linares, Jeana McCullough, Nancy Metz, Kimberley Morrow, Leslie Morrow, Lafetia Nauheimer, Stefanie Porter, Charyl Ramsey, Claudia Rodriguez, Karen Runyon, John Sellers, Melony Shemberger, Thomas Smyth, Jarad Sneed, Robert Towner, Kimberly Traylor, Dawn Vanderlee, Janet Velazquez, Richard Wacker and Monica Wirts.
Current year retirees are Lantz Biles, Virginia Dowlen, Darlene Dunbar, Ligia Ramos, Linda Sitton, Carol Spiller and Judy Springer.