Moving company to deliver Red, White and Baby shower donations for military families July 13th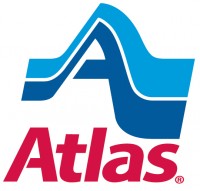 Evansville, IN – During its partnership with Birdies for the Brave® Patriots' Outpost and the Web.com Tour United Leasing Championship, Atlas Van Lines collected more than 4,000 baby items and more than $300.00 in cash donations for families at the Fort Campbell, KY, military base.
Atlas, one of the nation's leading moving companies, will deliver the Red, White and Baby collection items on Friday, July 13th.
Leading up to and throughout the professional golf event at Victoria National June 28th through July 1st, Atlas hosted a community collection for essential baby items. As a result, Atlas collected 15 blankets, 247 clothing items, 3,072 diapers, 83 packs of wipes, 248 hygiene products, 360 baby food containers and 64 bottles or toys. Event sponsor Chick-fil-A donated a large quantity of sandwiches that were sold for monetary donations to the Fort Campbell families, which totaled $307.00.
"It's an honor to give back to the families of those who serve our country so bravely, and we couldn't have done this without the overwhelming support we received from our employees, as well as the local community," said Jack Griffin, president and COO of Atlas Van Lines. "Supporting our local military personnel and their families is such a privilege, and we look forward to continuing to support those who fight for us and our country."
In addition to the Red, White and Baby shower, Atlas offered complimentary admission to the Patriots' Outpost tent for all active, reserve and retired military in addition to 250 golf tournament tickets for veterans. Inside the Patriots' Outpost tent, visitors were able to record encouraging video messages to military men and women deployed overseas. Those messages can be found here.
"It's great to have such a long list of donations to offer our military families," said Shirley West, director of Armed Services YMCA at Fort Campbell. "Atlas Van Lines went above and beyond to provide baby essentials to the mothers at Fort Campbell. We're looking forward to sharing these items with our families."
For more information on Atlas Van Lines, visit www.atlasvanlines.com .
About Atlas Van Lines
Atlas Van Lines, a national moving company, is the largest subsidiary of Atlas World Group, an Evansville, IN-based company. Atlas World Group companies employ nearly 700 people throughout North America. Nearly 500 Atlas interstate moving agents in the United States and Canada specialize in corporate relocation, household moving services and in the specialized transportation of high-value items such as electronics, fine art, store fixtures and furniture.
For more information, visit www.atlasvanlines.com .