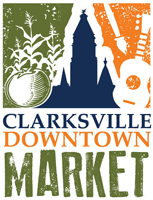 Clarksville, TN – Get ready; our Clarksville Downtown Market at Public Square is one of the contestants in the 2012 America's Favorite Farmers Markets contest hosted each year by American Farmland Trust. Thanks to all your support, our market was voted #1 in the state of Tennessee two years in a row!
The Clarksville Downtown Market is located at Public Square every Saturday from 8:00am to 1:00pm, and features fresh, locally grown produce, nursery stock, handmade craft items and other seasonal commodities. You can also find baked goods, home décor items, seasonal flowers and more.
American Farmland Trust (AFT) has opened the voting to select "America's Favorite Farmers Markets" at 
www.farmland.org/vote.
The online contest is a nationwide challenge to see which of America's farmers markets can rally the most support from their communities. According to the contest rules, people can vote for as many participating farmers markets as they choose, but can only vote for each market once.
Voting runs through midnight on Monday September 3rd, when one small, one medium, one mid-size, and one large market will win the title of "America's Favorite Farmers Market" for 2012.  The winning markets will be featured in the media and will be honored at local celebrations organized by American Farmland Trust.
Voting can also be done while visiting the market, beginning this Saturday, don't forget to stop by the Clarksville Parks and Recreation booth to cast your vote!
For more details on the Clarksville Downtown Market, please contact the Clarksville Parks and Recreation at 931.645.7476 or visit www.clarksvilledowntownmarket.com