Clarksville, TN – On July 4th, 2012, around 10:00am, Clarksville Police, Fire, and EMS responded to 3650 Oakland Road in reference to a house fire with people possibly still inside. Shortly after emergency personnel arrived on scene, the house was fully engulfed in fire, but there was no one inside.
The homeowner, Louie Daughtry arrived at the house a few hours later. He had been out with a friend in Oak Grove. Also, by coincidence his roommate had the three dogs which were normally at the house.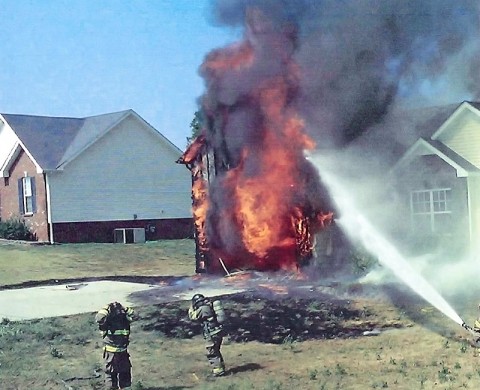 Additionally, there had been a party at the house the night before in which there was an estimated 60 – 100 people in attendance. The initial investigation into the fire was opened by the fire department.
An anonymous tip to Police lead to a break in the investigation. As the joint Police/Fire Department investigation progressed, it was determined that Louie Daughtry, poured gasoline inside his garage and set it on fire in an effort to burn down the residence and collect insurance on it.
Daughtry was heard talking about burning the house down and was observed pouring gasoline inside the garage while approximately 60 people were at the residence. The residence valued at approximately $130,000 was determined to be a total loss.
On July 17th, 2012 Louis Douglas Daughtry was booked into the Montgomery County Jail and charged with arson.
The lead investigators are: CFR Investigator Danny Perry and CPD Detective Howard Gillespie.
Louis Daughtry
Name: Louis Douglas Daughtry (W/M)
DOB: 6/24/81
Given Address: 3650 Oakland Road, Clarksville, TN
Arresting Officer: Howard Gillespie
Charged With: Arson
Booked Into: Montgomery County Jail
Bond: $50,000