APSU Sports: Austin Peay Football

Clarksville, TN – Austin Peay State University's football team will bring a surplus of experience to camp when more than 90 Governors report, Sunday, in preparation for the 2012 season.
A still-young Governors team returns 58 lettermen, including 18 starters from the 2011 squad that went 3-8.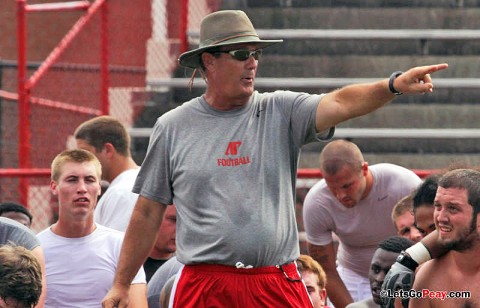 "What is so exciting is the fact we return so many guys from last year and we will have pretty much the same guys next year as well," APSU coach Rick Christophel said. "We are two deep pretty much at every position and in some places three deep. We are very optimistic where we are with the program and where we should be. We look forward to seeing these guys come to camp on Sunday."
The Governors are undeterred about preseason Ohio Valley Conference prognostications that have APSU picked ninth in the league race.
"They were disappointed (in the preseason selection) and rightfully so—they should be," Christophel said. "I believe our guys understand what they have to do. It is about gaining respect in the conference and becoming more consistent.
"I personally was a little more disappointed about a few of our guys on watch lists that didn't get a little more recognition in the conference. I certainly think they can play for a lot of people in this conference.  They (other OVC coaches) wouldn't trade their guys but I certainly wouldn't trade ours either. It comes down to respect."
The Governors got off to a hot OVC start a year ago, winning league home games against eventual OVC champ Eastern Kentucky and Tennessee State. But they were unable to build on that momentum. Injuries also ambushed the Govs amidst their struggles. But with so many familiar faces back, Christophel and staff hope the Governors can better handle adversity in 2012.
"You can't coach experience," Christophel said. "We have to find replacements for a few people, including three offensive line starters and guys like (safety) Amius (Smith) and (running back (Ryan) White. The good thing is the guys who are vying for those jobs all have game experience. So we are not pushing guys out there for the first time.
"The bad news is we have to play Western Kentucky and Virginia Tech right out the gate along with Tennessee State."
Recently, Christophel was cleaning out a drawer and ran across a depth chart from 2009, when fast-forwarding to this season, tells him how much the program has evolved.
"We were lucky to have two-deep back at most positions back then," he said. "And now we are reporting (to camp) as many guys that we ever have had report. Now we are two, three and sometimes four deep in some positions. We are in a position now where can redshirt guys—we are in a position now where we don't have to play freshmen.
"The number of bodies we have reporting to camp is what excites me the most. And I say that that because each one of them is going to contribute to this football team."
Defensively, the veteran Govs expect sophomore safety Steven Rich to step in for Smith—Rich had 33 tackles a year ago as a reserve. But the Governors have reshuffled the deck a bit to better take advantage of their chief  asset—speed. Defensive ends Iosua Siliva and Preston Gilbreath were moved inside to tackle. Defensive tackle Anthony Marion was shifted to defensive end while inside linebackers Zac Burkhart and Zach Lane were shifted to defensive end and defensive end Rip Rowan was moved to linebacker.
The defensive goal since 2011 season's end was to get quicker on defense for a two-fold purpose, doing a better job slowing down the opposition's running game while also being able to put more pressure on the quarterback. A quartet of seniors, safety Antwaun Majors, linebacker Darrick Dillard, defensive ends Marion and Burkhart, are expected to provide defensive leadership.
Offensively, the Governors should be led by the senior passing combination of quarterback Jake Ryan to wide receiver Devin Stark, who was enjoying an All-OVC-type season until Ryan missed more than two games with a knee injury. Still, Stark, who had impressive early showings against FBS members Cincinnati and Memphis, finished with 53 catches for 627 yards and seven TDs.
Terrence Oliver and Robert Lemon provide quality depth at one of the other receiver positions but it is the Z position—speed receiver position—where the Govs are seeking consistency. Both sophomores Jamaar Embry and Darryl Clack had their moments a year ago, but it is consistency the Govs are seeking from that spot.
Of course, the Governors must find a replacement for White, a 1,000-yard rusher a year ago who left as Austin Peay's second all-time leading rusher. Senior Wes Kitts, who averaged 5.9 yards per carry while gaining 495 yards a year ago, will get the first crack.
Also back are sophomore Ean Pemberton (171 yards), redshirt sophomore Dontavious Brown and redshirt freshman Reco Williams. Brown, who played defensive back in 2010, made an impressive transition to the more-natural running back position last fall before a knee injury caused him to miss 2011. At 6-1, 240 pounds, Williams offers straight-ahead power from the backfield.
"Finding a replacement for Ryan certainly is a priority," Christophel said. "Wes has proven in the past he can do it, but keeping him on field—injuries—have been the issue.
"Even though we will miss Ryan, in all honesty, I believe we have more quality depth at running back than we have had since I have been here," Christophel said. "And that is not even talking about Omar (Williams, the freshman running back who had more than 1,000 yards alone in the Tennessee High School playoffs a year ago)."
The other question mark will on the aforementioned offensive line. Former starting guard Jacob Langston, a senior, has been shifted to center while junior guard Chris Hartman is the Govs other returning starter. However, right tackle Ben Stanfield has two starts in his background while fellow tackle Kyle Harrison has played considerably as well.
Guard Gavin Willisson gained experience at center a year ago behind Tim Schmid while back-up O.C. Brown, the transfer from Southern Miss, has a year of FBS experience in his background. Sophomore Nathan Sanders more than got his feet wet last year as an offensive line back up . Only redshirt freshmen tackles Julian Virgo and James McDaniel lack on-field experience among APSU's top 11 linemen.
The kicking game is in capable hands. Senior Stephen Stansell is on the verge of becoming APSU's all-time leader in field goals made while sophomore punter Ben Campbell showed an impressive leg a year ago.
Players will check into their respective dorms 1:00pm-4:00pm, Sunday, before physicals are held that night. After an assortment of meetings Monday morning, the Governors finally will get on the practice field for the first time, 3:45pm.