APSU Sports: Austin Peay Volleyball

Clarksville, TN – Austin Peay State University's volleyball team reported to campus, Thursday, and began their preseason schedule with a full slate of team meetings.
The Lady Govs will begin a condensed 14-day preseason schedule with a 10:00am, Friday practice at the Red Barn on campus. Austin Peay will have to make the most of the limited preparation time before opening the 2012 season at the Memphis Invitational, August 24th-25th.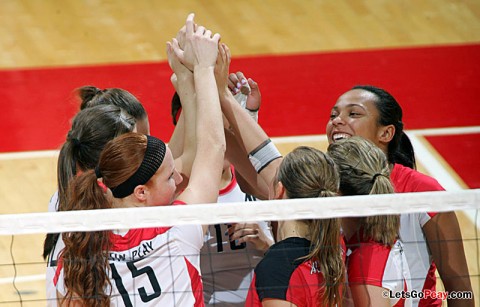 Austin Peay's preseason preparation will take place under head coach Taylor Mott, who was hired last spring as the program's fifth head coach in the past five seasons. Mott brings a wealth of experience from 13 seasons at Division II Flagler where she helped lead the Saints to three consecutive NCAA Division II tournament appearances, including two visits to the Elite Eight. She will seek to bring that success with her to Austin Peay, but understands that the building blocks will be established in the preseason.
"We just going to try and establish our system – the way we want to play offense and defense, said Mott. "We have to come up with a lineup pretty quickly but I believe our preseason tournaments will help us establish a lineup. We're going to spend a lot of time developing them as players and letting them know what our system will be."
The Lady Govs return three starters from last season's team, which fell just shy of reaching the Ohio Valley Conference's six-team tournament last season. They are included among eight returning  letterwinners that will be joined by four newcomers this season. Senior outside hitter Nikki Doyle – a two-time All-OVC selection – highlights the returnees. She will be joined by sophomore setter Cami Fields and sophomore middle blocker Hillary Plybon who were both OVC All-Newcomer team selections last season.
"I'm looking forward to seeing them when they play with some confidence," said Mott. "I know they have skill, I've seen it. Unfortunately, in this game sometimes skill doesn't always win matches.  I'm looking forward to seeing what they can do when they have confidence, when they know they are being supported and are playing in some kind of system."