Additional Saturday Clinic Scheduled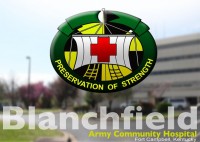 Fort Campbell, KY – Blanchfield Army Community Hospital (BACH) will hold an additional Saturday school and sports physical clinic August 18th for eligible Tricare beneficiaries.
"While we are still encouraging patients to take advantage of the appointments available during regular clinic hours, we also recognize that holding another Saturday clinic will help us meet the needs of our beneficiaries," said Col. Paul Cordts, hospital commander.
Appointments for physicals may be scheduled by calling 270.798.4677 or 931.431.4677. The Saturday clinic will have appointments available from 8:00am to 1:00pm.
Beneficiaries who are assigned to a network medical provider should receive school physicals from their assigned provider but may schedule sports physicals at BACH. In addition, patients assigned to the Screaming Eagle Medical Home should schedule school and sports physicals within their clinic during regular hours or a Saturday clinic.
Patients with appointments for the Saturday school and sports physical clinic should arrive 10 minutes prior to their appointment at the Byrd Clinic, which is located in Building 7973 on Strike Boulevard near Gate 10. Arriving early will allow time to complete the necessary paperwork (see the map provided).
Patients are encouraged to walk in to their assigned clinic Monday through Friday to receive necessary immunizations prior to the Saturday school and sports physical clinic to expedite the process.
In order to receive a school or sports physical, students should bring their immunization record (shot record) to the appointment. Parents are asked to complete all paperwork prior to the school or sports physical exam appointment. Children are asked to wear shorts and a short-sleeved shirt to facilitate the examination.
Copies of the school-required forms for Clarksville Montgomery County, Christian County and Fort Campbell schools may be picked up from your assigned BACH primary care clinic.
Parents with children who attend schools other than the districts listed may call their local school district to determine requirements and obtain necessary forms. Parents may speak to a nurse in their child's assigned clinic for more information about school or sports physicals.
Children 4 years old and older who start preschool, prekindergarten, kindergarten, 7th grade or are new students starting school in Tennessee for the first time will all need an official Tennessee Certificate of Immunization to provide to the school or child care provider.
Routine physical exams are valid for one year and are required for the following students:
Any child entering Christian County or Clarksville-Montgomery County schools for the first time
Any student participating in school-organized sports
Any youth participating in Fort Campbell's organized sport programs
Any adolescent who enrolls in the 6th grade in Christian County or Fort Campbell schools
Any adolescent who is entering the 7th grade in Tennessee
Patients unable to attend their Monday through Friday school or sports physical appointment should call the BACH appointment line at 270.798.4677 or 931.431.4677 to cancel at least two hours prior to the appointment. To cancel a Saturday school or sports physical appointment, please call the appointment line anytime before 6:30pm August 17th. Patients who are late for their appointment time will be seen if time becomes available.