APSU Sports: Austin Peay Soccer

Little Rock, AR – Austin Peay State University's women's soccer team picked up its first win of 2012, Sunday, on the road against UALR. The Lady Govs scored three unanswered goals to knock off the Trojans 3-1.

"This was a good result for us today," said head coach Kelley Guth. "We stuck to the game plan and turned the ball over a lot less than we did against Arkansas (on Friday)."

The host Trojans (0-2-0) jumped out to an early lead in the first half. Austin Peay keeper Haylee Shoaff saved an Alyson Rohane shot, but Ariel Galletti collected the rebound and put it in the back of the net for the Trojans first goal in 2012.

The Lady Govs answered in the 24th minute on an unassisted goal from sophomore Taylor Van Wagner. The goal was the first in Van Wagner's Lady Govs career. The goal came on a collected rebound from an Austin Peay corner kick.

"We came out a little sluggish today," Guth said. "It was pretty hot out today, but we got refocused at halftime.
"Our bench went a little deeper today and that allowed us to get a little more rest and spread the minutes around, which really helped out."

Austin Peay surged ahead in the second half thanks to Andy Quiceno. She broke away from the defense and beat the keeper to the bottom left for a goal less than two minutes into the period that put the Lady Govs ahead for the first time in 2012.

Senior Emily Perkins picked up her season's first goal in the 71st minute, taking a feed from junior Morgan Zigelsky and beating the keeper low and to the right from about 15 yards away.

Emboldened by the lead two-goal, the Lady Govs attacked the net more vigorously as the second half went on. Austin Peay attempted 14 shots in the second half, putting 13 shots on net in the closing 45 minutes.

"We set the tempo in the second half," Guth said. "That allowed us to create more opportunities, and we took advantage of them."

Zigelsky, junior Joceline Quiceno and sophomore Claire Pultz each put three shots on net. Zigelsky led all players with five attempted shots Sunday.

Freshman Melissa Fletcher picked up her season's first yellow card in the 56th minute.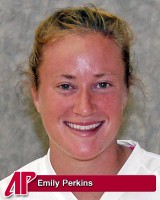 Guth got a chance to see both keepers in action on Sunday. Shoaff started the match and played the opening 45 minutes, making four saves and allowing one goal. Freshman Nikki Filippone saved three shots in 45 second-half minutes.
"Haylee wasn't tested much in the first half," Guth said. "Nikki came out after halftime and made a couple of big saves to help us secure the victory."
The Lady Govs will make their 2012 home debut at 7:00pm, Friday, August 24th against Appalachian State at Morgan Brothers Field.
Sections
Sports
Topics
Andy Quiceno, Appalachian State, APSU, APSU Athletics, APSU Morgan Brothers Field, APSU Soccer, APSU Sports, APSU Women's Soccer, Arkansas, Austin Peay State University, Claire Pultz, Emily Perkins, Haylee Shoaff, Joceline Quiceno, Kelley Guth, Lady Govs, Little Rock AR, Morgan Zigelsky, Nikki Filippone, Taylor Van Wagner, Trojans, UALR