Cunningham, TN – Clarksville Academy Cougars beat the Montgomery Central Indians 47-7 Saturday afternoon at Montgomery Central's Phillip J. Horsey Field in the "Battle of the River" game.
"We worked very hard in the off season. We've very proud of our effort. Kids executed real well," state Clarksville Academy head coach Todd Hood. "To lose so many kids from last year's team. We lost 9 on offense, about 6 on defense and some out of state players. So to come back and play like this on our first game, I'm very proud of our effort."

The game was played on Saturday, because the visitor side lights at MCHS would not come on due to the massive electricity problems the county experienced Friday night. Clarksville and Fort Campbell played most of the first half without lights, which came back on there at 8:15p.m.
"Central played a good game. They have new coaching staff. Their trying to get things in order and we can understand that," stated Hood. "We're trying to get better ourselves. We have a long road ahead. We started with two tough teams 4A Montgomery Central and then 3A Stewart County. We're always playing the big teams and we have little 1A Clarksville Academy that seems to find a way to play good. I'm just so proud of our effort."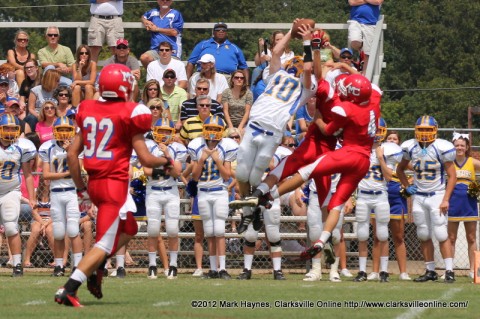 "We have a couple of plays just to let the kids have some fun. We actually scored on the first play of the game, but it got called back on a holding. One of the coaches asked should we try it again. So I said well why not. So we ran it again and it worked out well for us." commented Hood.
"We started last year. We had a great off season. Our kids worked so hard. We had a great spring time and a great summer. I think just about everyone showed up every single day this summer," stated hood. "They put in alot of time. We don't play around too much. We work very hard, they respond to that and it shows on the football field most nights."
Hood went on to say, "Our next opponent is Stewart County, a 3A team in the same region as Montgomery Central. A very tough district they play in. We have our work cut out for us again next weekend. They will have 80 kids on the sideline and we'll take our little 40 down there and see what we can do."
Clarksville Academy plays at Stewart County this Friday night.
Montgomery Central plays at East Robertson this Friday night.
Box Score
| | | | | | |
| --- | --- | --- | --- | --- | --- |
| | 1 | 2 | 3 | 4 | F |
| Clarksville Academy Cougars | 16 | 14 | 17 | 0 | 47 |
| Montgomery Central Indians | 0 | 0 | 0 | 7 | 7 |
Clarksville Academy-Montgomery Central Scoring Summary
1st Quarter
CA 7:10 3-0 Justin Hood 19 yard field goal
CA 2:02 9-0 Jacob Rugen pass to Josh Anderson 9 yards (PAT FAILED)
CA 0:00 16-0 John Anderson 2 yard (hood PAT good)
2nd Quarter
CA 9:03 23-0 Jaleel Stubbs 53 yard Punt Return (hood PAT good)
3:36 30-0 John Anderson 2 yard run (hood PAT good)
3rd Quarter
CA 11:39 37-0 Jacob Rugen to Jaleel Stubbs 52 yards (Hood PAT good)
CA 5:00 44-0 Justin Swails to Clay Goad 46 yards (Hood PAT good)
CA 24.1 sec. 47-0 Clay Goad 35 yd Field Goal
4th Quarter
MC 47-7 4:09 #14 1yd run (#56 PAT good)
Clarksville Academy Stats
Jacob Rugen- 7-10 132 yards 2 TD
Justin Swails- 1-2 46 yards 1 TD
Micheal Conn- 2-5 29 yards
John Anderson- 9 rushes 61 yards 2 TD
Jacob Rugen- 6 rushes 64 yards
Josh Anderson- 2 rushes 8 yards
Jaleel Stubbs-1 rush 6 yards
Conner Thomas- 3 rushes 3 yards
Clay Goad- 4 catch 114 yards 1 TD
Jaleel Stubbs- 1 catch 52 yards 1 TD
Josh Anderson- 1 catch 9 yards 1 TD
Conner Wise- 2 catches 8 yards
Conner Blackman- 1 catch 16 yards
Jordan Patton- 1 catch 13 yards
Clay Goad- 1 punt return 44 yards
Jaleel Stubbs- 1 punt return 52 yards 1 TD
Justin Hood- 1-1 FG 5-5 PAT
Clay Goad- 1-1 FG
Clay Goad- 1 int returned 10 yards
Bennett Evans- 1 fumble recovery
Photo Gallery