APSU Sports: Austin Peay Women's Volleyball

Memphis, TN – Austin Peay State University's volleyball team opens the 2012 campaign with the Memphis Invitational, Friday-Saturday, at Memphis' Elma Roane Fieldhouse.
Austin Peay will open the season against host Memphis in a noon, Friday contest. The Lady Govs will also face UALR (4:00pm, Friday), Eastern Michigan (10:00am, Saturday) and Southern Illinois (2:00pm, Saturday) in the four-match, round-robin tournament. All games of the tournament will be available free via live video streaming on the Memphis Tiger Network.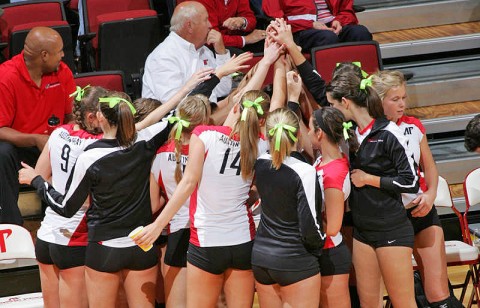 The Lady Govs will be under new guidance in 2012 as Taylor Mott took over the program in March after leading Division II Flager the previous 12 seasons. She has had two weeks of preseason practice to prepare her squad for the upcoming campaign but feels the time has been well utilized by the team.
"I believe we've shown a ton of progress," said Mott. "They've really worked hard and learned a lot in a short amount of time. I believe if we play with the passion and intensity they've shown in practice then we should be successful."
Mott did not inherit a bare cupboard with three starters and eight letter winners returning from last season's team that posted an 11-20 overall mark and just missed qualifying for the Ohio Valley Conference tournament. Among the returnees are senior outside hitter and two-time All-OVC selection Nikki Doyle as well as sophomores Hillary Plybon and Cami Fields who were OVC All-Newcomer picks last season.
Doyle has posted 400-plus kills in each of her first two seasons at Austin Peay. However, she has shown an all-round ability on the court, posting more than 300 digs, 40 blocks and 30 service aces in each season. She will be joined at outside hitter by sophomore Jada Stotts who supplied key starts during the season's midpoint. They will be aided by freshman Samantha Strother.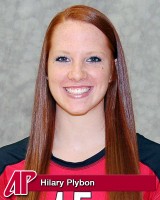 The Lady Govs also return their entire middle blocking corps from last season's squad: juniors Lauren Henderson and Calyn Hull, sophomore Liz Landon and Plybon. Henderson and Plybon were the Austin Peay's starting middle pair in 2011 with Hull and Landon serving in back-up roles. Henderson posted a team-best 109 blocks last season while Plybon scored 262 kills and will be the team's second leading attacker entering the year.
Sophomore setter Cami Fields will again quarterback the squad after handing out 1,242 assists last season – seventh-most in program history. After serving as the team's lone setter in 2011, Fields will gain some welcome help from freshman Aubrey Marsellis who at 6-0 will cut an imposing figure when on the court.
Austin Peay's worries come at the thread-bare positions of opposite-side hitter and libero. Senior Alex Sain will be the Lady Govs lone opposite in 2012 after playing just 26 sets as a junior. However, she did play 58 sets as a sophomore and averaged 1.60 kills per set. Freshman April Adams will take over as Austin Peay's sole libero this season, replacing three-year starter and All-OVC selection Paige Economos.
"I believe we have to go out and improve every time we step out to play," said Mott. "I look at this as a chance to practice against someone other than ourselves. I have said from the first day of practice that this is a talented group of women. If we combine that talent with hard work and enthusiasm we will be competitive in every match we play."
Memphis returns senior outside hitter Altrese Hawkins, a preseason All-Conference USA selection, from last season's team that posted a 20-13 record overall. The Tigers, under fifth-year head coach April Jauregui, were selected to finish seventh in the C-USA preseason poll despite returning 80 percent of their offensive output from last season's team.
UALR (11-20 in 2011) travels to Memphis under the direction of head coach Van Compton, who enters her 25th season. The Trojans will be led by senior Daniele Souza Moura who will move to middle blocker for the first time in her collegiate career. She will be joined by sophomore outside hitter Edina Begic who was the Sun Belt Conference's Freshman of the Year.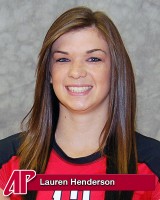 Eastern Michigan will seek to fill the hole left by a trio of seniors, including a pair of first-team All-Mid-American Conference selections that departed after leading EMU to a 21-11 record last season. The Eagles return five starters from that team, including senior outside hitter Rachel Iaquaniello who led the team with 468 kills last season and was a first-team All-MAC selection.
Southern Illinois might be the most experienced team in the field, returning all six starters and its libero from last season's campaign that resulted in a 9-18 record. The Salukis top two hitters – senior outside hitter Laura Thole (346 kills) and junior outside hitter Jessica Whitehead (338 kills) – from last season's team return to lead the charge in 2012.