Clarksville, TN –  Downtown Clarksville's 7th Annual Frolic on Franklin: A Celebration of the Arts will take place Saturday, September 15th from 9:00am-4:00pm. The free event will showcase the works of 26 local and regional artists along the 100 block of historic Franklin Street.
A variety of original artwork and crafts will be on display including jewelry and beaded items, pottery, paintings, woodwork, ceramics, glass items, fabric items, photography, garden and seasonal items, and more. Items will be for sale with prices ranging from $2 – $2,000.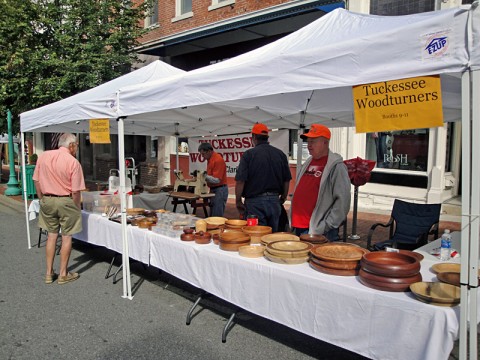 Several artists are expected to provide demonstrations of their work at their booths including working on a knitting loom, weaving and wire wrapping, Japanese style painting, using lathes for woodwork, jewelry making, kids craft tables, as well as watercolor and acrylic painting.
Participating artists and their works include:
2 Old Biddies – crocheted items, wall art and metal work
A Stich or Two – folk dolls, scarves, embroidered and fabric items, beaded flatware
Back to Earth Creations – handmade jewelry
Captured by Grant – photography
Carolyn Rogers – fabric items
Clarksville-Montgomery Co. Arts & Heritage Development Council – "Color Clarksville" coloring books, heritage license plates
Creative Cutters Corner & Crafts – handmade cards, gifts, party favors
Curious Cases and Photography – vintage renewed suitcases, photography
Downtown Artists Cooperative – original oil, watercolor, acrylic and mixed media art, photography, cards and jewelry
Frank Lott – original watercolors, pastels and prints
Friends of Photography – photographs
Hot Tart Creations – bracelets, stockings, wine bags and other fabric items
LNM Creations – ceramic garden ornaments, photo notecards
Made With Love – handmade and beaded jewelry
Mia's Creations – outdoor and indoor wooden art
Mishmash Ladies – wreaths, paintings, lace pottery and mixed media
Pocket Charm Purses & Bags – fabric handbags and totes
That Creative Touch – wooden tile and glass pendants, beaded bracelets, kids crafts
Thornton Pottery – pottery
Tuckessee Wood Turners – various wood-turned items
Twisted Creations – bottle cap and handcrafted jewelry
Two Branches – handmade books, wire garden art, bird houses, knitted items
Uncle Fuzzy's Penworks – handmade wooden ink pens
Wooden Things – Christmas ornaments, bowls, pepper mills
Woodward Arts – acrylic and multimedia work, repurposes wood objects
In addition to artist booths, staged entertainment is scheduled throughout the day.
Entertainment
9:00am-9:30am
Kenwood High School Hi-Steppers
10:00am-11:00am
Cumberland Winds Woodwind Quintet
11:15am-12:15pm
Northeast High School Exit One Show Choir
12:30pm-1:45pm
Red River Breeze
2:00pm-3:00pm
The Loose Hinges
Shops and restaurants along Franklin and throughout the downtown district will be open their regularly Saturday hours. Downtown Market is also open around Public Square until 2:00pm.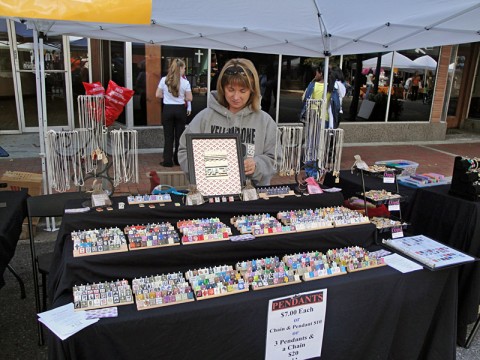 The evening will conclude with a ticketed gala auction, dinner and the opening of the Roxy's 30th season with "9-5: The Musical!"
For more information about Frolic on Franklin or for Roxy Gala tickets, please contact the Roxy Regional Theatre at 931.645.7699.