APSU Sports: Austin Peay Football

Bowling Green, KY – Senior quarterback Kawaun Jakes threw four touchdown passes, including three in the first half, to lead Western Kentucky to a 49-10 victory, Saturday night, against Austin Peay State University in the season opener for both teams.
It was the first meeting between the two former Ohio Valley Conference rivals since 2006 but the first with the Hilltoppers as a Football Bowl Subdivision (FBS) program-WKU is now a Sun Belt Conference member. It also was Austin Peay's second straight season-opening loss to an FBS team.  The Govs lost at Cincinnati a year ago.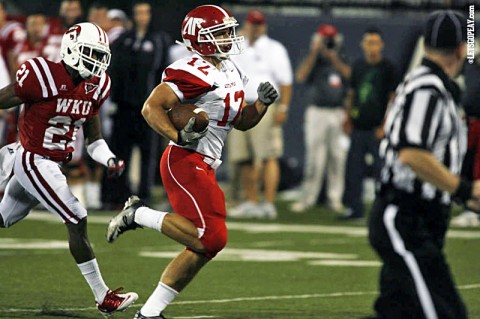 Jakes finished the night 18 of 23 for 296 yards before departing early in the second half. In fact, WKU rolled up 367 yards in total offense-Jakes had 276 in the first 30 minutes-in the first half to build a 35-0 lead.
In the first half, the Govs dodged an early bullet as WKU drove from its own 14 to the Govs' one. However, a personal foul penalty forced WKU to attempt a field goal but Jesse Roy missed.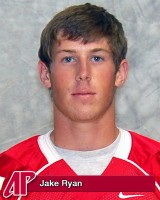 But that good fortune didn't last long. After APSU went three-and out on its first possession, the Govs were forced to punt. Antonio Andrews gathered it in started right before heading back left. He ran away from the Govs for a 70-yard TD.
On the Govs' next possession, quarterback Jake Ryan was sacked on a third-and-long. He fumbled the football and WKU recovered at the APSU 21. On the next play, Kawaun Jakes hooked up with Willie McNeal for a TD.
WKU added three more TDs in the second quarter, including one with six seconds left, to give WKU a comfortable 35-0 halftime lead.
Austin Peay's one offensive bright spot came early in the second half when Wesley Kitts broke free for a 68-yard TD run. That kept alive APSU's streak of 74 straight games without being shutout.
Kitts, meanwhile, finished night with 104 rushing yards, his second career 100-yard rushing effort.
Stephen Stansell's 34-yard fourth-quarter field goal leaves him one short of tying Tom McMillan (1986-89) for most career fields. McMillan had 33 during his career.
APSU Post-Game Notes
This was the first time Austin Peay played Western Kentucky with the Hilltoppers being a Division I member.
This was the school's first meeting since 2006 and only the second since 1998.
Austin Peay remains winless at WKU at 0-21-1.
Austin Peay head coach Rick Christophel (1971-74) and Western Kentucky coach Willie Taggart (1995-98) played quarterback for their respective alma maters.
This was the second straight year the Govs have opened the season playing a FBS school. Last year the Governors played at Big East member Cincinnati.
WKU drove the ball all the way to APSU one-yard line on first possession, but a post-possession unsportsmanlike foul penalty moved it back to the 16 and WKU then missed a 33-yard FG. WKU also missed another short field goal early in the second quarter and a third one later.
On the Govs' second second-quarter possession, redshirt freshman Julian Virgo and sophomore transfer O.C. Brown formed the left side of the offensive line.
On that possession. Terrence Oliver was inserted at tailback, joining Brown, his former prep teammate Brown, who was the subject of the Academy Award-winning documentary "Undefeated" while at Manassas High School.
With Wes Kitts 68-yard run TD run it kept alive APSU's streak of 74 straight games without being shutout.
Wesley Kitts' 68-yard run tied a career-long.  It matched the 68-yard TD run, also a TD, he had against Cumberland, September 2nd, 2010.
Redshirt freshman Julian Virgo, making his first start at left tackle, limped off the field with an apparent left injury right before half. Junior tackle Kyle Harrison, who was just cleared this week to resume practice after an undisclosed medical issue, also missed the game.
Freshman walk-on William Cooper not only made the travel squad but he also served on the kickoff return team as well as playing linebacker in the third quarter.
Redshirt freshman Jacob Sexton made his quarterback debut early in the fourth quarter. The brother of APSU linebacker and special teams player Jared Sexton, saw his opening series begin at the Govs' three-yard line after fellow freshman J.J. Rutledge elected to bring a bobble kick out of the end zone.